Faena Art Center presented Forms from Life, Typoe's first solo exhibition in Latin America, from July 20th through July 31st. The artist transformed Sala Molinos into a surrealist labyrinthine world of fantasy. His monumental children's building blocks and towers brought to mind the Art Deco facades and tropical colors of Miami –the artist's hometown– and the ruins of classical architecture from ancient Rome. Exploring basic geometry, order and beauty, the artist reimagined the basic building blocks of our physical world. Fluorescent and flamingo pinks, tropical turquoise and tangerine orange were highlighted by faux-marble classical columns and arches that teased the imagination. The installation invited visitors to construct new worlds for their wildest dreams, generating new experiences of communal creation and social interaction while at the same time conjuring our deferred dreams. A contemporary memento mori, Forms from Life marked the inevitable passage of time as well as our personal journeys from shimmering youth and beyond. Timed to coincide with the local school year's winter break, Forms from Life was a call to play, build and experiment—a space for the reimagining of collective creativity.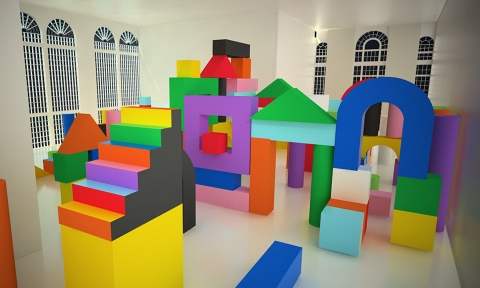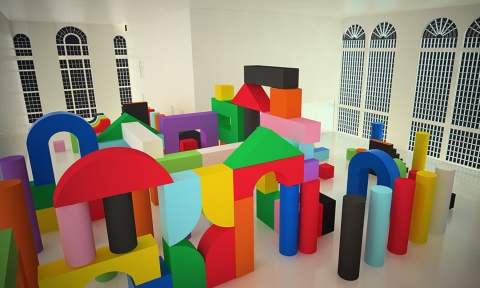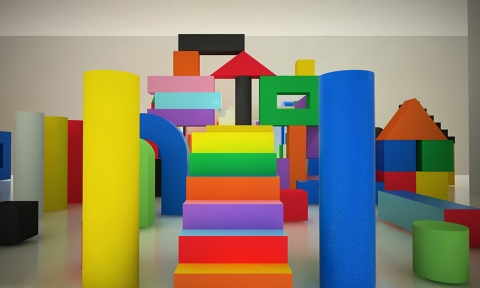 Forms from Life drawn upon Typoe's previous commission for the Faena Art Elevate series—a program of rotating site-specific commissions installed in the elevator of Casa Claridge's in Faena District Miami Beach. For Elevate, Typoe created a playful and experiential work titled Getting Up that encouraged viewer participation and recalled the childhood pastime of playing with letter-shaped magnets; ultimately serving as a transgressive act of auto-definition and a reclamation of public space for social interaction.
About Typoe
Typoe (b. Miami, 1983) is a multidisciplinary artist whose practice plays upon the constant tension between the dark recesses of the urban underground and the shimmering bling of celebrity. Often working with gunpowder, fire, plastic, spray paint and found objects, Typoe's work evolves in response to a given situation or environment. For Forms from Life the artist has moved away from his signature gunpowder paintings that play with both representation and materiality, in favor of creating an entirely immersive and experiential installation inside the Faena Art Center. Based in Miami, Typoe has participated in gallery and museum shows around the world and exhibited his work in Mexico City, New York, Los Angeles, and Basel, Switzerland. Typoe is co-founder and Creative Director of PRIMARY, an art collective and gallery in Miami.
Sala Molinos
July 20 through 31, 2016