5th Annual Faena Jazz Series at Faena Theater
SEVEN WEDNESDAY CONCERTS FROM JANUARY – JUNE 2023
Faena Live is thrilled to welcome the return of the annual Faena Jazz Series for its fifth year.  In keeping with Faena's commitment to delivering unparalleled offerings and experiences, Faena Jazz series is once again, curated and produced by Grammy-nominated producer Rachel Faro. Jazz lovers from South Florida and beyond are invited to enjoy the sounds of great jazz at the intimate and glamorous Faena Theater at Faena Hotel Miami Beach. 
Presenting today's greatest emerging and established jazz artists since 2014, this is the place to enjoy jazz in an intimate setting. Our 2023 lineup is particularly fascinating with superstar players such as Al Di Meola, emerging superstars such as Laufey, a strong showing of woman artists in March, Woman's History Month, including the latest winner of the Sarah Vaughn Vocal Jazz Competition, and musical tributes to the music of New Orleans and the Sephardic communities of Spain and South America.  
The series kicks off on January 25th with a performance by guitarist Al Di Meola and closes on June 17th with NEA Jazz Master and New Orleans icon Chief Donald Harrison.
_____________
 
The Faena Jazz Series offers a memorable evening of music in a remarkable backdrop: the Faena Theater, an unmatched venue in which to hear live performances  Designed by Alan Faena, the 150-seat venue is a remarkable jewel placed in the setting of one of Miami Beach's most beautiful hotels. Inspired by Europe's historic opera houses with its gold-leaf and red velvet décor, the theater's acoustics and sightlines are flawless, making it an elegant and comfortable place to spend an evening enjoying great jazz.
JAZZ SERIES 2023
 FULL LINEUP
 
 AL DI MEOLA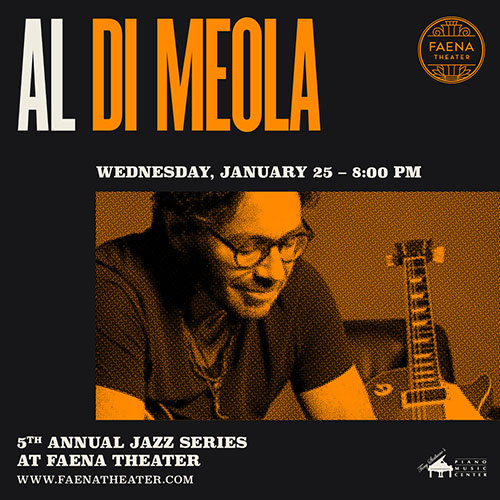 ? DATE: 

Wednesday, January 25 at 8:00pm

? PRICE: 

Tickets start at $55 per person and Season tickets start at $400 per person 

? LOCATION:

Faena Theater 

ABOUT:

Di Meola needs no introduction – he is simply considered to be one of the world's greatest musicians and a virtuoso of the highest order.

A prolific composer and prodigious six-string talent, Di Meola has amassed over 20 albums as a leader while collaborating on a dozen or so others with the likes of the fusion supergroup Return To Forever (with Chick Corea, Stanley Clarke and Lenny White), a celebrated acoustic guitar trio featuring fellow virtuosos John McLaughlin and Paco de Lucia, and the Rite of Strings trio with bassist Clarke and violinist Jean-Luc Ponty.

? BOOK HERE
LAUFEY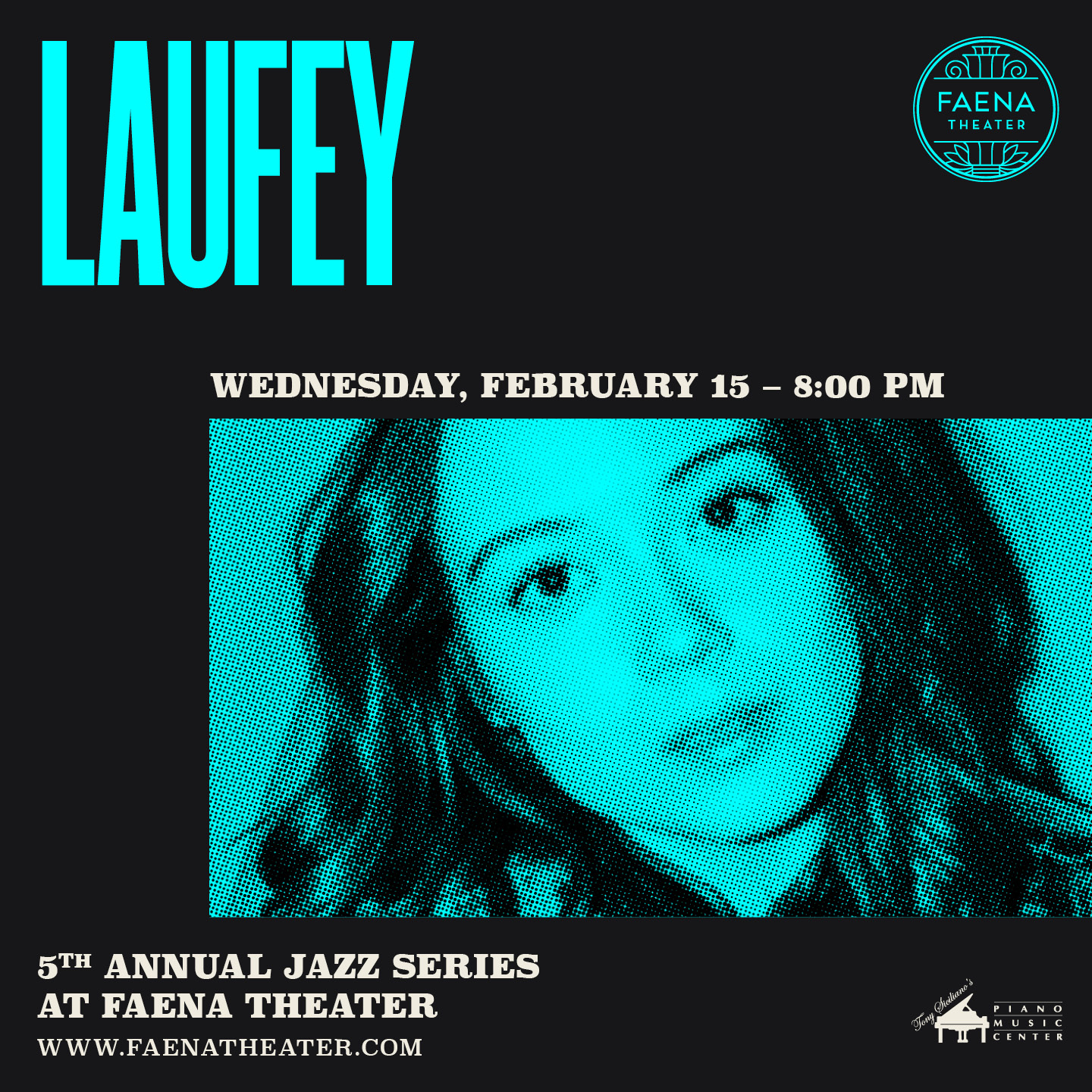 | | |
| --- | --- |
| ? DATE:  | Wednesday, February 15 at 8:00pm |
| ? PRICE:  | Tickets start at $55 per person and Season tickets start at $400 per person  |
| ? LOCATION: | Faena Theater  |
| ABOUT: | Icelandic-Chinese singer/songwriter Laufey star is rising so fast it's hard to keep up, with appearances on Jimmy Kimmel, a vast following on social media (over 14 million listeners on Spotify!), sold out shows all over the world and Billie Eilish and Willie Smith counting as her fans. |
| ? BOOK HERE | |
GABRIELLE CAVASSA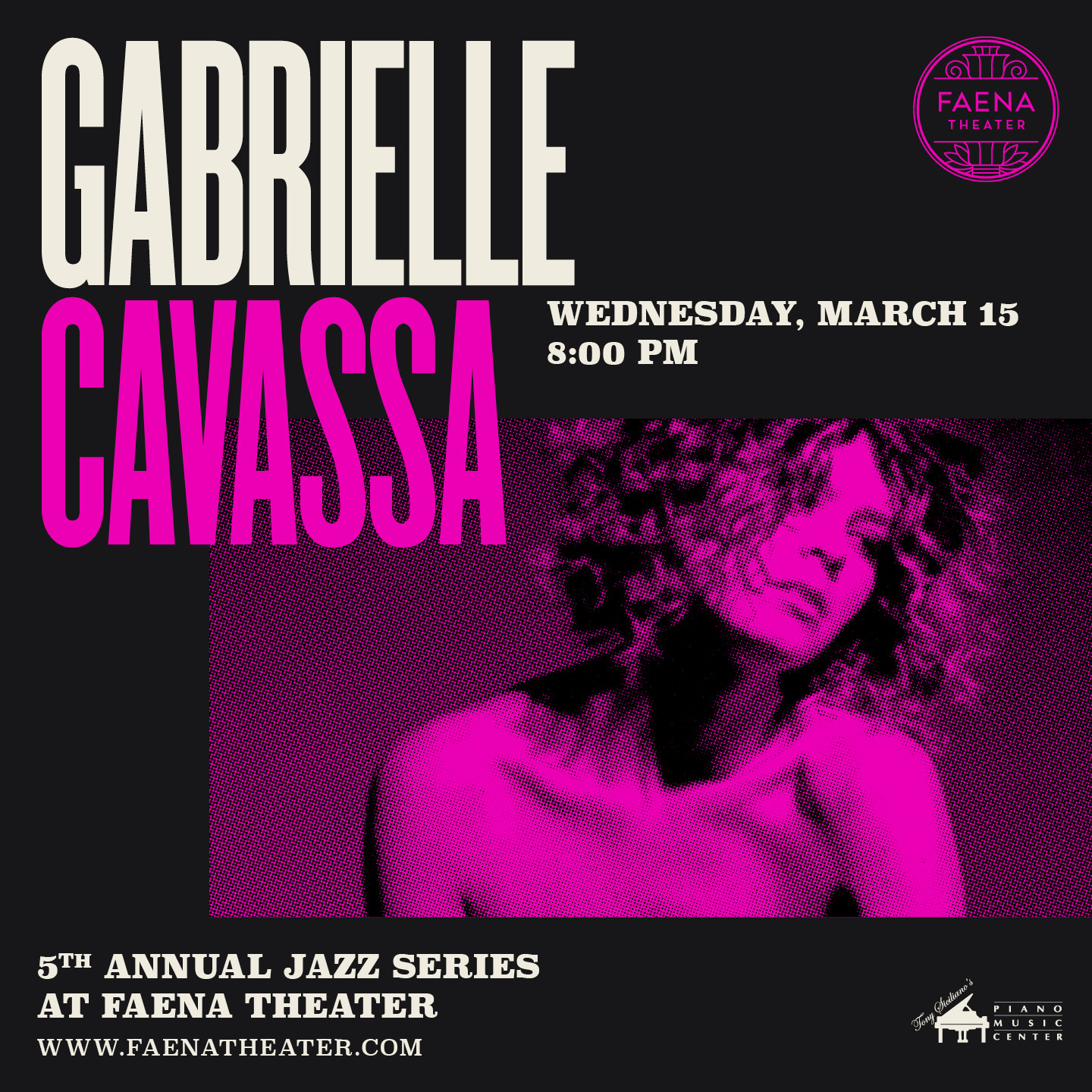 | | |
| --- | --- |
| ? DATE:  | Wednesday, March 15 at 8:00pm |
| ? PRICE:  | Tickets start at $55 per person and Season tickets start at $400 per person  |
| ? LOCATION: | Faena Theater  |
| ABOUT: | The Faena Jazz Series continues its tradition of presenting winners of the Sarah Vaughn International Jazz Vocal Competition: in past years Jazzmeia Horn, Veronica Swift and Samara Joy all debuted at the Faena as emerging artists, we are now proud to invite the winner of the 2021 competition, Gabrielle Cavassa. |
| ? BOOK HERE | |
SARA GAZAREK & THE SHELLY BERG TRIO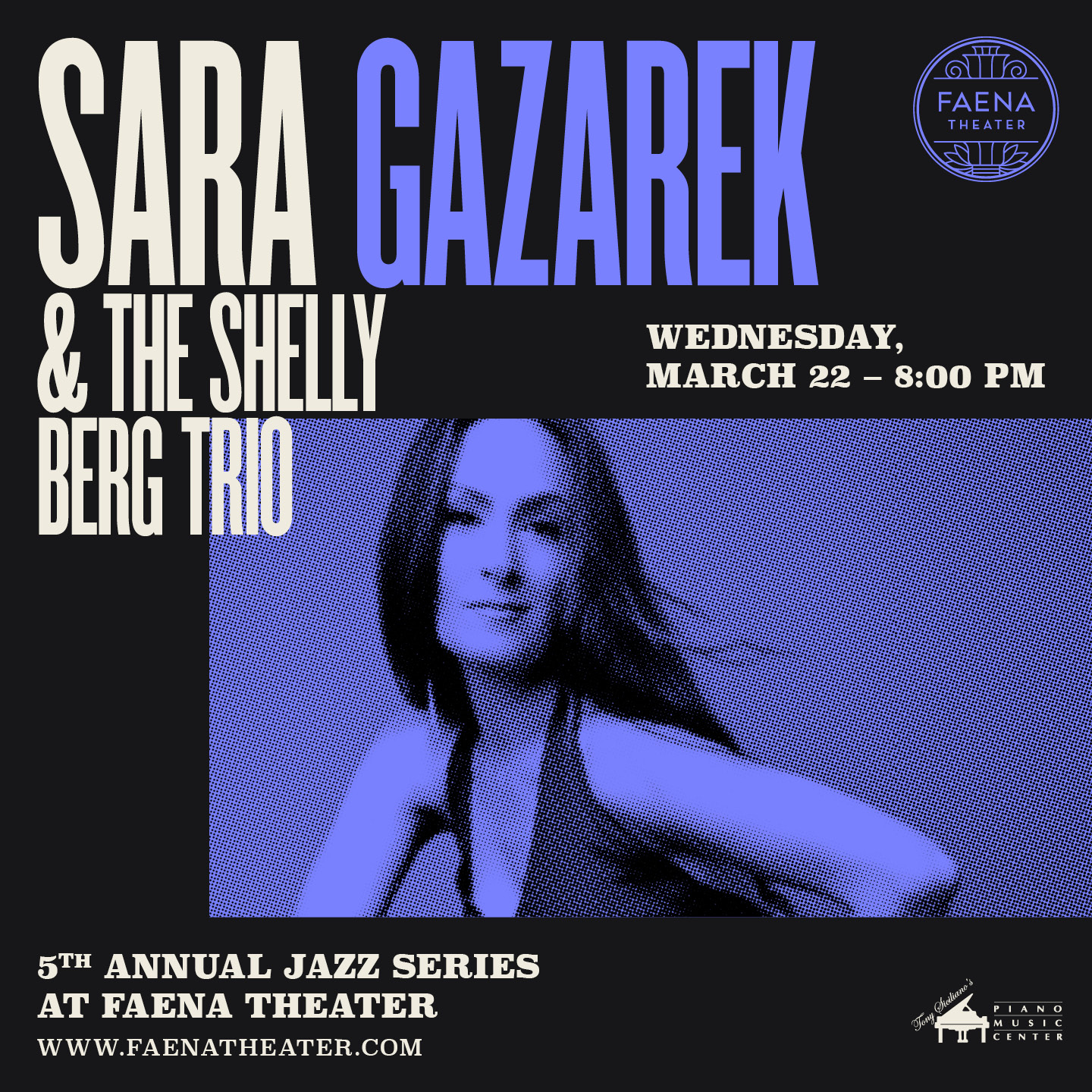 ? DATE: 

Wednesday, March 22 at 8:00pm

? PRICE: 

Tickets start at $55 per person and Season tickets start at $400 per person 

? LOCATION:

Faena Theater 

ABOUT:

We kick off Woman's History Month with Sara Gazarek, who is considered to one of the premier jazz singers of her generation.

A multiple Grammy nominee, an educator and the premier protegée of singer Kurt Elling, she combines extraordinary vocal technique with conscious lyrics and sense of human warmth that is hard to resist. Accompanying Sara will be her good friend pianist Shelly Berg and his trio.

? BOOK HERE
ETIENNE CHARLES & TRACES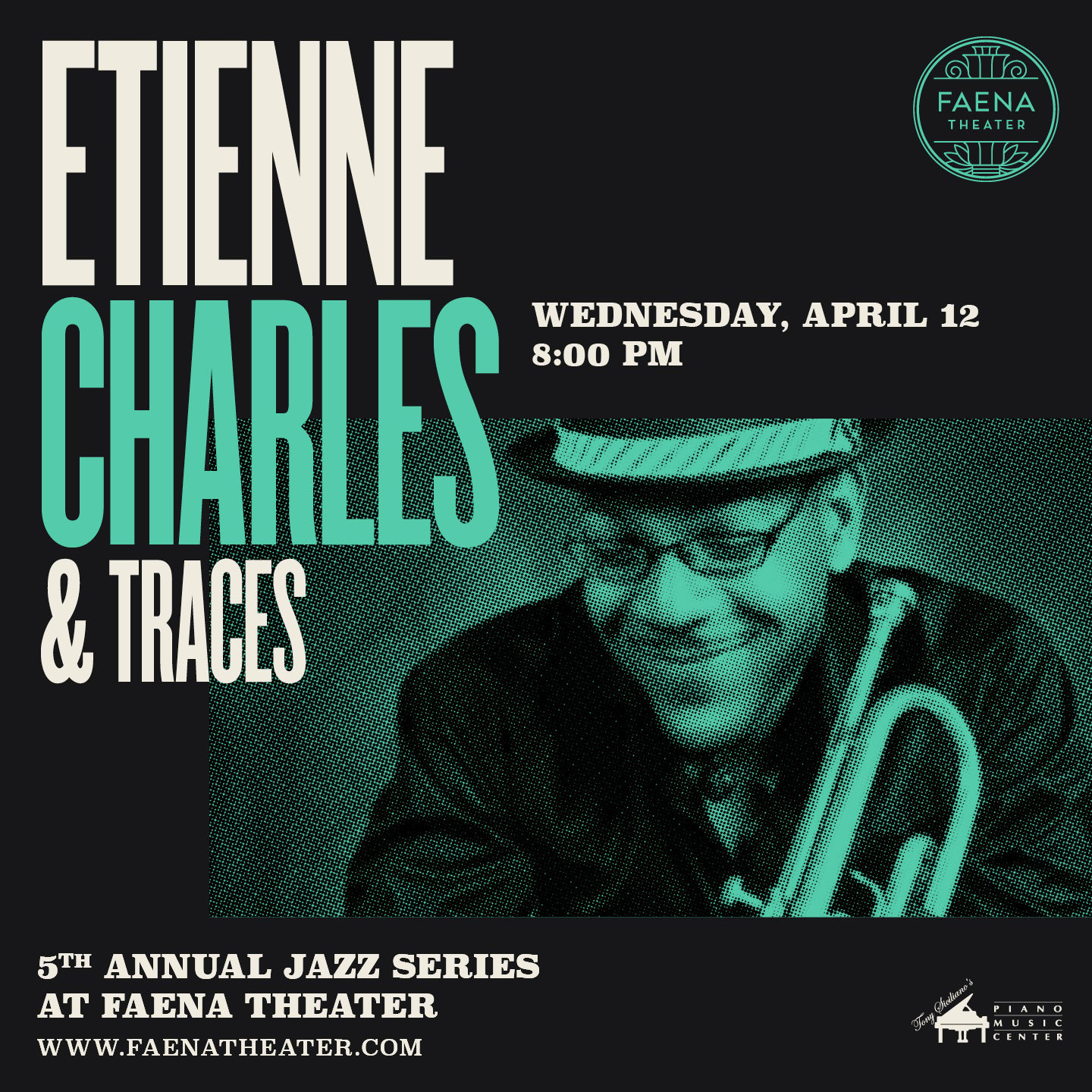 | | |
| --- | --- |
| ? DATE:  | Wednesday, April 12 at 8:00pm |
| ? PRICE:  | Tickets start at $55 per person and Season tickets start at $400 per person  |
| ? LOCATION: | Faena Theater  |
| ABOUT: | Trinidad-born trumpet player Etienne Charles is a performer, composer, and storyteller, who is continuously searching for untold stories and sounds with which to tell them. |
| ? BOOK HERE | |
SHAYNA STEELE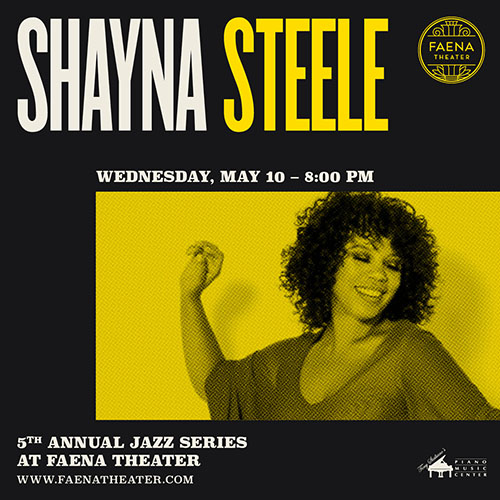 ? DATE: 

Wednesday, May 10 at 8:00pm

? PRICE: 

Tickets start at $55 per person and Season tickets start at $400 per person 

? LOCATION:

Faena Theater 

ABOUT:

Shayna Steele is a powerhouse vocalist who is bound to shake the Faena Theater rafters. 

A consummate jazz singer, she began her career as a musical theater artist, appearing on Broadway in shows such as Rent and Hairspray and going on to sing backup with superstars Kelly Clarkson, Rihanna, and Bette Midler before stepping out on her own as a solo artist.

? BOOK HERE
 

BIG CHIEF DONALD HARRISON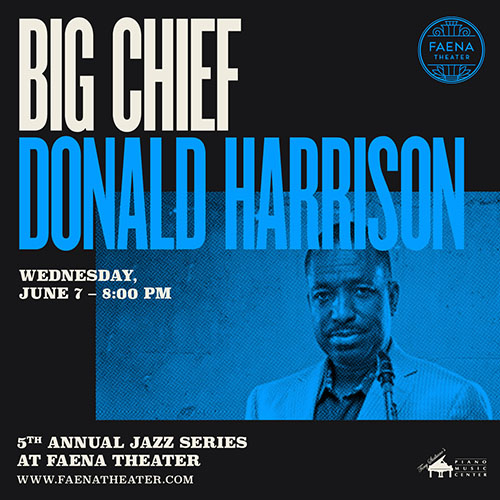 | | |
| --- | --- |
| ? DATE:  | Wednesday, June 7 at 8:00pm |
| ? PRICE:  | Tickets start at $55 per person and Season tickets start at $400 per person  |
| ? LOCATION: | Faena Theater  |
| ABOUT: | New Orleans born saxophonist and composer Donald Harrison is a master in every era and style of jazz, soul, funk, and as a composer of orchestral classical music. |
| ? BOOK HERE | |
---
Reservations & More Information:
Tickets start at $55. 
For more information, call +1 786 655 5742
Open to guests of all ages.
Check-in time starts 45 minutes prior to show time 
For group reservations and series information, please call Faena Theater Sales at + 1 786-559-6016 or email

[email protected]
---
CATEGORY: JAZZ, MIAMI JAZZ, MIAMI BEACH JAZZ, JAZZ SHOWS IN MIAMI, JAZZ SHOWS IN MIAMI BEACH, FAENA JAZZ, THEATER SHOWS, THEATER SHOWS IN MIAMI, THEATER SHOWS IN MIAMI BEACH, LIVE JAZZ SHOWS, LIVE MUSIC, LIVE MUSIC IN MIAMI, MIAMI EVENTS, MIAMI BEACH EVENTS