Tryst Cabaret at Faena Theater
​ THURSDAYS - SATURDAYS
Come along for the risqué journey into suggestive tales of love and seduction as Faena Theater's new immersive contemporary TRYST CABARET, delicately entices the mind with stories of explicit escapades from our bewitching mistress's past, present, and future loves.
Faena LIVE's original production—TRYST- Our Next Affair, combines teasing burlesque, riveting cirque nouveau, and spell-binding music into a night of provocative sensations and boasts an outstanding ensemble of award-winning talent.
🔥 Tryst is excited to welcome back our most seductive of emcees, Broadway's Kat Cunning! Fan favorite master of ceremonies, Kat, is ready to reignite the Faena Theater stage with their unparalleled voice and presence. 
This summer Kat is joined by the multi-faceted entertainer Sunni Stephens, who infuses her Vegas-style theatrics and her unique interplay of multiple genres of pop music to the already enchanting production.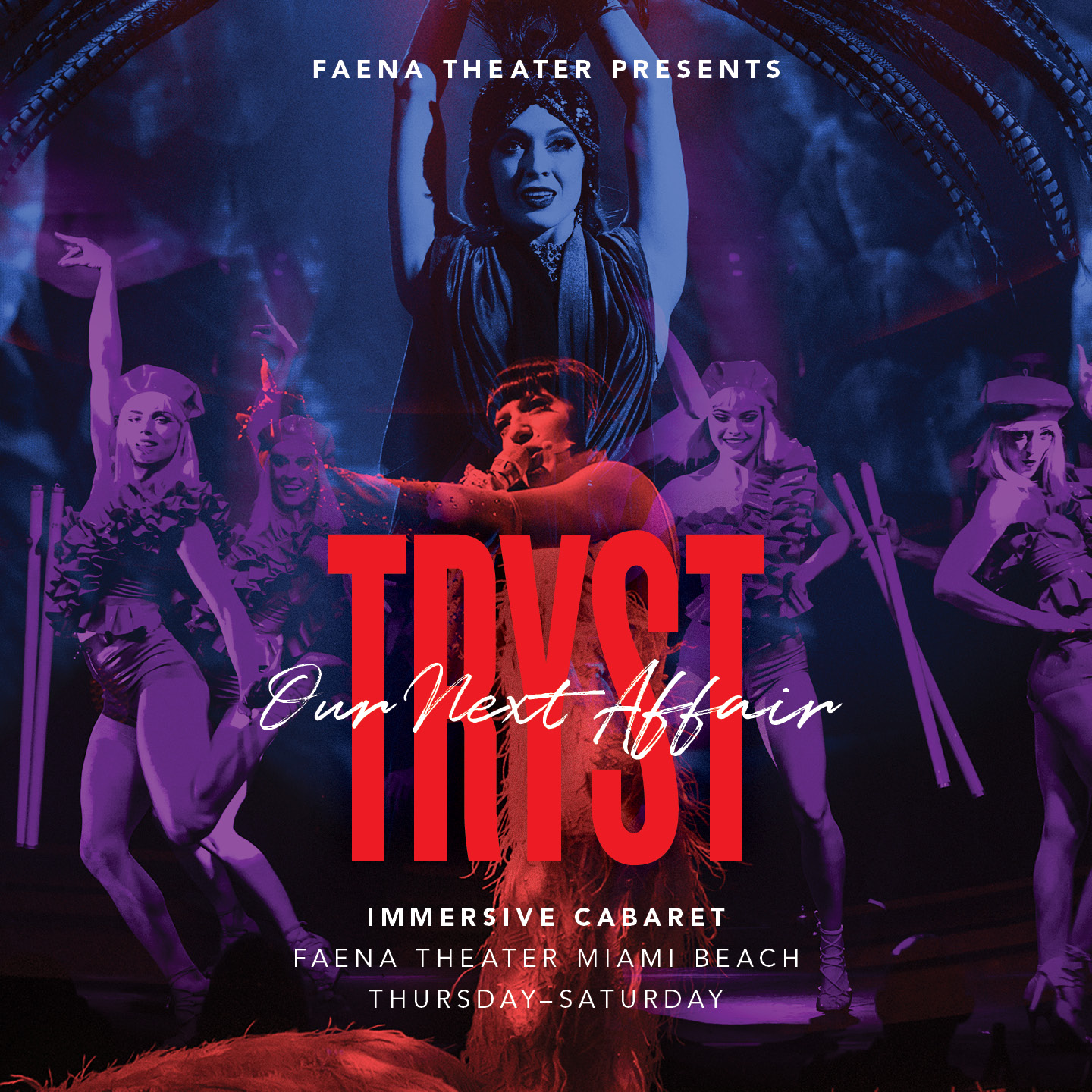 Indulge your desires and expect the unexpected, as Miami's most captivating performance ignites the luscious flame of plush eroticism before your eyes.
Join us as at the Faena Theater for an evening of Tryst's tantalizing specialty acts and outrageous charm!
---
Reservations & More Information:
📅 THURSDAYS, FRIDAYS & SATURDAYS
Thursday
9:00pm
Friday
8:00pm 
Saturday
8:00pm (1st Showing)
10:30pm (2nd Showing)
Tickets start at $95. Click HERE to book now
For more information, call +1 786 655 5742
Check-in time starts 45 minutes prior to show time 
Doors close promptly at show time. No late admittance
Guests 18+ welcome. Valid ID required upon arrival
For group bookings (8+ guests), please contact 

[email protected]

   
---
ABOUT KAT CUNNING: 
With a traffic-stopping voice and powerful presence, Kat Cunning (they/them) is an accomplished screen/stage talent, recording artist, activist and choreographer. They debuted on Broadway in Liaison Dangereuses (Janet McTeer, Liev Schreiber) and in Cirque du Soleil in addition to acting alongside James Franco in HBO's The Deuce, and most recently, JLo in Marry Me (Universal). Cunning is also thrilled to be contributing to authentic LGBTQAI+ representation as a non-binary role in Netflix's upcoming Purple Hearts and making another anticipated appearance in Issa Rae's Rap Shit on HBO Max.
Kat garnered most of their fans as the infamous Sabine in Trinkets on Netflix which featured their original songs such as "King of Shadow", "Birds", and "Supernova" (over 50M Spotify streams) with which they have supported sold out tours for LP and Verite. Kat's latest single 'Boys' is a soulful pop anthem that aims to represent the underserved transmasculine community and LGBTQ/marginalized people alike. 
---
ABOUT SUNNI STEPHENS
Entertainer, songwriter, and performer  Sunni Stephens is a saucy chanteuse amassing legions of followers with her unique interplay of multiple genres of pop music.
Fueled by her ambition to be recognized as a multi-faceted entertainer, Sunni Stephens is known for her Vegas-style theatrics reminiscent of the old Broadway-style musicals set in the landscape of today's pop culture. Her approach as a performer is simple--take the great music of the past and re-invent it. She studies the greats and applies their entertainment styles to today's generation of music and dance. 
A published songwriter and touring artist, her career has spanned over a decade of entertaining audiences locally, nationally, and internationally. Credits include the Fillmore Theater, Center Stage, Summer Jamboree in Italy, and Teatro Alfa in Torino, Italy.