Faena Art's Project Room - Take This Waltz
JANUARY 20 - FEBRUARY 24, 2023
Faena Art's Project Room unveils "Take This Waltz" an immersive, site-specific installation by Christina Pettersson
---
TAKE THIS WALTZ
ABOUT THE PROJECT:
In Take This Waltz, Christina Pettersson awakens the lost native landscape of a Miami Beach that once was—mangroves, saw palmettos, and a menagerie of creatures who once roamed the city now march through her installation in a gothic carnivalesque masquerade. This 'end of days' waltzing funeral procession envelops the space and pays homage to the underworld in an exploration of a crucial and unique historical environment.  
By posing the question How do we hear the dead? Pettersson reminds us that what we have lost will not be returned to us, it will always be lost. As the ancient world disappears, our craving to commune with it grows, and in this exhibition the artist invites us to dance into the underworld with her. 
..."So blow your trumpets, carry your torches and lanterns, and dive into the dying of the light. Dance with the bears, the wildcats, the mangroves and saw palmetto thickets. Be a messenger of plants. Risk exuberance. Remember our wild ancestry by this one and only briny sea, and do not be forlorn. It is Death, not art, that imitates life. And when it is dark enough you can see the stars."
---
RESERVATIONS & MORE INFORMATION:
? EXHIBITION DATES
JANUARY 20TH - FEBRUARY 24TH, 2023
THURSDAY - SUNDAY, 3PM - 8PM
? LOCATION:
FAENA ART PROJECT ROOM
3420 Collins Avenue
Miami Beach, FL 33140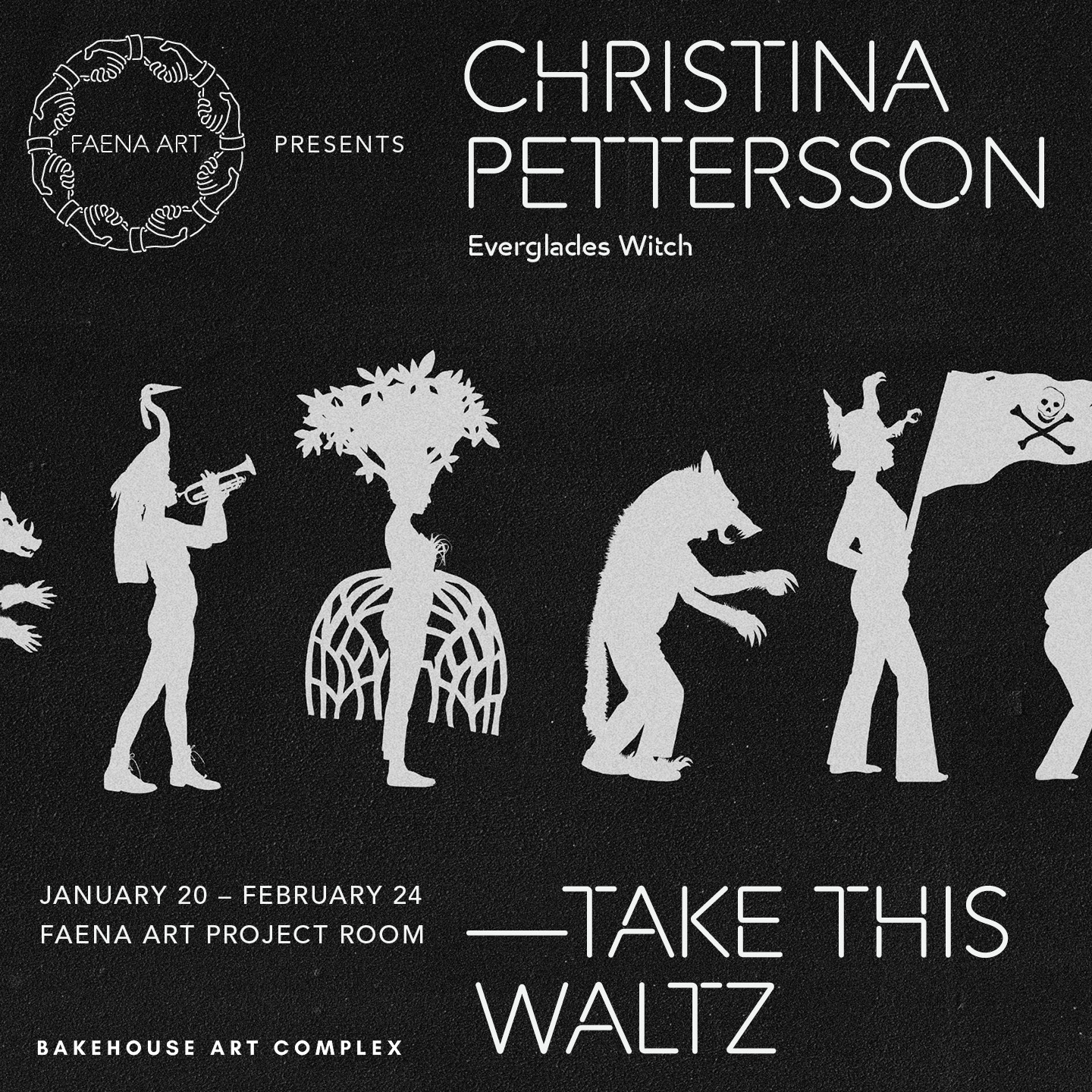 ---
ABOUT THE ARTIST:
Christina Pettersson thanks Pedro Wazzan for his collaboration on this project and all participants who helped to create the characters that bring Take This Waltz to life.
---
ABOUT FAENA ART PROJECT ROOM: 
As Faena Art's first dedicated space in Miami, the Project Room serves as a platform for experimentation and development of innovative ideas. The Project Room encourages artists to explore new facets of their practice and hosts an artist residency, a series of artists talks, and fosters new models for social interaction that transcend the traditional boundaries of art, science, philosophy, and social practice.
Location:
Faena Art Project Room
3420 Collins Ave.
Miami Beach, FL 33140
---
ABOUT FAENA ART: 
Faena Art is a 501(c)3 nonprofit organization that commissions, produces, and houses cross-disciplinary artistic experiences. A catalyst for innovative, site-specific, and immersive practices, Faena Art bridges the popular and the experimental making art accessible to all. Faena Art fosters new models for social interaction transcending the traditional boundaries of art, science, philosophy, and social practice.
---
ABOUT BAKEHOUSE ART COMPLEX:
Bakehouse envisions a world that supports and values artists and recognizes their ability to shape, reflect, and transform our world. Its mission is to address the need for affordable living and work spaces for artists in Miami's urban core. The Bakehouse Art Complex is a 501(c)(3), not-for-profit institution.