To Our Faena Family, 
Your security, safety, and health remain our top priority. We have enhanced our health and safety protocols to adhere to the recommendations and guidelines set by the Center for Disease Control & Prevention and the City of Miami Beach.  
We assure you of our commitment to continuously elevate our standard to provide our guests with a safe and comfortable stay.
---
KEEPING YOU SAFE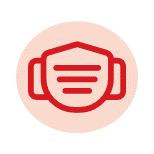 Mandatory Masks
All Faena team members are required to wear a mask or face covering that covers the nose and the mouth. Guests must adhere to wearing their masks in public areas as mandated by the City of Miami Beach. CDC guidelines now recommend that unvaccinated individuals continue to wear masks while in public settings. 

Handwashing & Enhanced Sanitation
Hand sanitizer stations are easily accessible throughout the property. We have enhanced our cleaning protocols and increased the amount of routine cleaning throughout the resort. Increased focus will be placed on high-touch surfaces and common areas using cleaning products that meet EPA guidelines.

Cleaning
All public spaces are cleaned daily using Electrostatic cleaning systems. Enhanced frequency cleaning of all public areas with an increased focus on high touch zones and surfaces to be enforced.

Dining
All menus can be viewed on your personal mobile device using QR codes. All seating will strictly follow the guidelines outlined by the City of Miami Beach. In-Room Dining is available with contactless drop-off only.

HVAC Controls & Air Quality
Rigorous measures have been taken to provide maximum outdoor air circulation throughout our buildings and guest rooms with air filters that meet or exceed published standards.
OUR TEAM

Personal Protective Equipment (PPE)
All team members wear appropriate PPE based on their roles and responsibilities in adherence to state and local regulations and guidelines.  Employees are issued facial coverings, are required to wear them as appropriate, and trained how to properly use and dispose of them. 
Health Screening
All Employees will have their temperature read prior to beginning each workday. For all recordings above the temperature of ≥ 99.5 °F (37.5°C) entry will be denied and referred for medical attention. Employees running a temperature are required to stay home.
Employee Training
Employees are trained in all enhanced health, hygiene, and social distancing practices. Reporting and recognizing Covid-19 symptoms and following appropriate medical care and isolation procedures recommended by the CDC are employee requirements.
Risk Management & Protocols: 
Faena is focused on reducing and containing the opportunity for a virus to spread on our properties, therefore, the use of active protocols like the 'Race to Trace' service provided by the Department of Health assists in contact tracing the spread of Covid-19.
---
More Information:

 
Covid-19 is a contagious disease that leads to severe illness and sometimes death. According to the Centers for Disease Control and Prevention, senior citizens and guests with underlying medical conditions are vulnerable. By visiting Faena, you voluntarily assume all risks related to possible exposure to Covid-19.
In compliance with the CDC and City of Miami guidelines, some amenities will be limited or unavailable during your stay.
To reduce the spread of Covid-19, guests should:
Avoid traveling if you have experienced a fever > 99.5, cough, sore throat, shortness of breath or breathing difficulties, fatigue, chills, muscle pain, headache, loss of taste and smell 
Cover your nose and mouth if you sneeze or cough 
Avoid touching eyes, nose, and mouth 
Always wear a mask if you are around other people