A Walk in Yayoi Kusama's Garden of Narcissism…
An installation invites contemplation of both reflection and mirage, its message reinvented as the years go by.
The power of a mirror lies in its ability to show not only a reflection of reality, but nearly always the reflection of something else, too. Japanese artist, Yayoi Kusama knew this when she created Narcissus Garden more than 50 years ago. One of her most famous works, it consists of numerous reflective metallic spheres placed within a given space. This work has been repeatedly shown and reinvented for decades. The work's ability to transform itself, to give different messages depending on what is reflected, has allowed the piece to be exhibited once more, this time in New York City.
The current garden (made up of these mirrored balls) contains 1,500 stainless steel spheres each reflecting its surroundings and anyone who approaches them. The work was presented for the first time as part of an unofficial performance in 1966, during the 33rd Venice Biennale. On that occasion, the reflecting spheres were made of plastic and were placed in a garden outside the Italian pavilion. Standing among these silver spheres was Kusama in a golden kimono and bearing a sign which read "Your Narcissism for sale." A protest and a strong questioning of the art world, and the commercial side to art, it was also a commentary on the narcissism so common in the world of art. Once, in an interview about the work, Kusama said that the best thing about the work's presentation on that occasion was that the spheres were sold "as if I were selling hot dogs or ice cream cones." Each sphere cost about two dollars.
In the decades that followed, Narcissus Garden was assembled in more places and different countries. The performances which were part of the piece became more elaborate and included more participants, often held in parks or emblematic cultural spaces, in New York and other cities.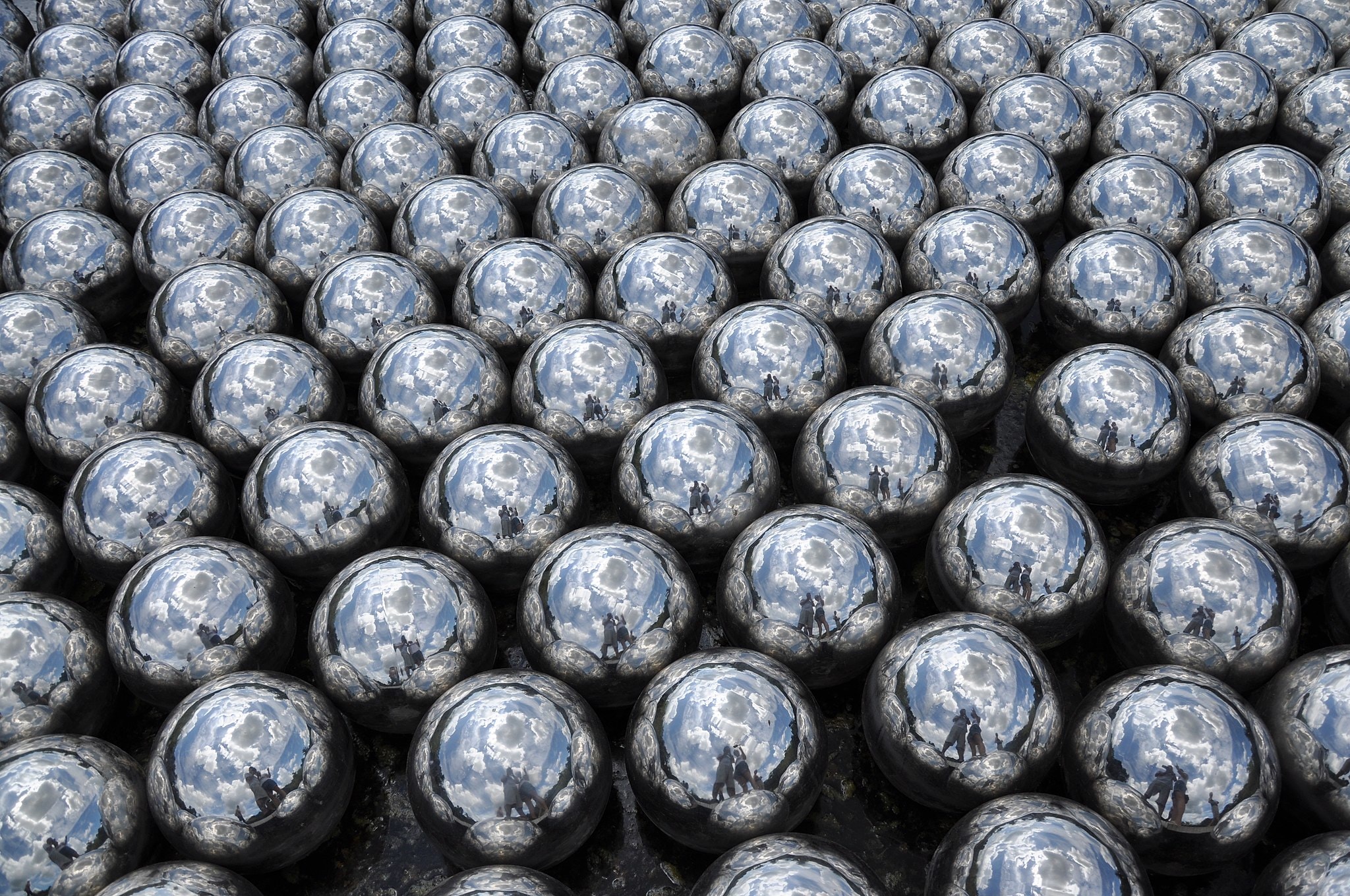 Narcissus Garden is currently on display in New York, presented by MoMA PS1 as part of Rockaway! 2018, a free public art festival in Queens. Kusama's installation has been placed in an old train warehouse in Fort Tilden, a location which was severely damaged by Hurricane Sandy in 2012. On this occasion, this work (and the festival itself) have been reimagined as instruments for the creation of awareness around the state of abandonment and destruction still seen in the area today.
According to the myth, Narcissus is the epitome of vanity and pride, the most beautiful young Greek of all, and the one most cruel to his suitors. He was punished by the gods who made him fall in love with his own reflection in a pool. Dazzled by his appearance, he couldn't help but throw himself into the lake in an effort to touch himself. Thus, the relationship between mythology and the installation invites multiple readings of the work, a forced confrontation with vanity and ego. Kusama's spheres will reflect your face (or force you to face yourself), but they'll also repeat, magnify and multiply a reality or an environment, forcing an audience's reflection on the same. That's the case with this latest version of the work, one whose message and meaning have evolved over the years, without ever having lost the work's crystalline essence.
Images: 1) emc – flick 2) josep – Creative Commons
Related Articles