Brian Eno Designed a Hospital Room and This Is What Happened
Eno's soundscapes set out on the noblest of missions: helping to heal the ill.
As one of those fortunate events that make us wonder "Why hadn't anyone thought of this before?", the brilliant musician Brian Eno designed a musical-hospital room. The idea came about when the English surgeon Robin Turner noticed the calming effects that Eno's music had on his mother in law, and then decided to install a room in the Montefiore hospital in Hove, England, musicalized by Eno himself. In it, patients can "think or simply relax", Turner points out. He approached Eno after seeing the 77 Million Paintings piece at the Brighton festival with his mother in law. He said:
She [mother in law] is normally very fidgety, you can't pin her down; the phrase we use is that she goes at a million miles an hour with her hair on fire. She went in and was there for two hours, which is unheard of. It was proof that this has a calming influence on people.  
This installation is the first of its kind in the world. The hospital is now monitoring the heart-rates, blood pressure and anxiety of the patients who go in, and even as of ye it is too early to have medical results, there have been multiple accounts, especially from cancer patients, that find in the room a temple of tranquillity of sorts. As we know well, that temple is the best place to start any type of healing process.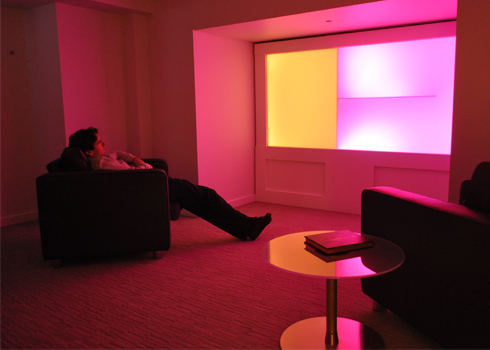 With this, Brian Eno and Turner hope that other hospitals around the world with follow their example, since having a place of peace for a few hours, especially within the critical atmosphere of a hospital, could very well transform the history of health forever.
Related Articles