Jim Denevan and the Geometric Dance of Solar Light
The extraordinary land art artist now pays homage to the night, with spectacular drawings illuminated by solar light.
His works are like enormous messages for anyone who knows how to read the formal language of nature. And all of us, including nature itself, know how to read it. Jim Denevan is a strange artist who could be compared to a musical composer or a ballet dancer. His works, almost always beside the sea, are drawings of the congenital rhythms of the human body, but are also of the rhythms in tune with the sound of the waves and the scratching noise of the sand when the works are sketched. He and his instrument, usually a stick found on the beach or a plowing tool, are his companions in a mathematical dance that is in a magnanimous and modest tempo; a dance that talks of the universe and then immediately disappears.
His sculptures began to attract the attention of the media and followers of land art in 1999. He has now created several hundred of them, the majority of them on beaches in California, but also in Australia, Vancouver and New York, among other places. Each one of them takes about five hours work and miles of perfectly drawn walks with a balance of body and a mathematical mind. But it all began when his mother, an outstanding mathematician and a specialist in the Fibonacci mathematical sequence developed Alzheimer's and Denevan spent time surfing the waves of Santa Cruz as a way of praying and dragging a stick along the beach as a way of coming to terms with it. In the form of the mandala he found the well-known tool of healing.
All of his pieces are enchanting, especially those he created in Vancouver in 2010, in which his drawings in the sand were slowly intervened by the canals of the region, to the extent that they were translucent below the works in some places and in others they remained intact until it appeared that the circles and lineal forms had always been there because the geometry has the same logic as the Earth.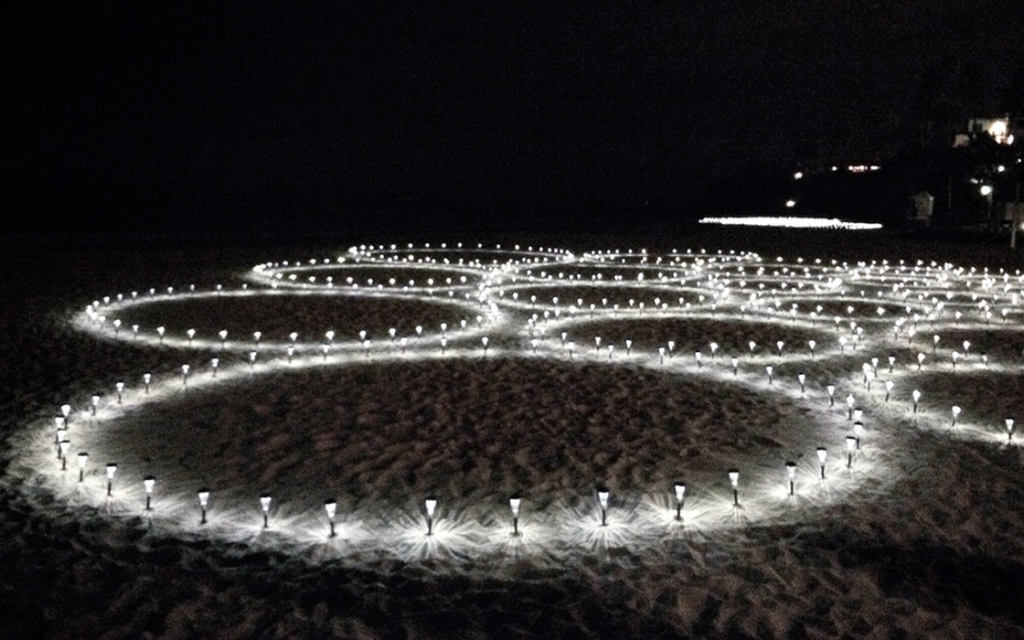 Related Articles