Meet the First Man Who Dared to Use an Umbrella
One day, in the 17th century, Jonas Hanway dared to go out into the streets of London 'under a portable roof.' For more than 30 years Hanway was the most ridiculous man in London.
London is a city of encounters (Dickens dixit), but also of the rain and therefore known as 'the city of umbrellas.' It is not surprising then that the first man to use an umbrella was English: Jonas Hanway (1712-1786), who made the umbrella we know today a popular object. Hanway is one of the most fascinating characters of the world of curiosities.
The Englishman got the idea from a business trip he took to Persia, where the women used enormous parasols imported from China along the Silk Road. The idea of transforming the Persian parasol for the English rain appeared a splendid one, and without a second thought that is what he did. Robinson Crusoe, Daniel Defoe's character, had invented in literature a kind of umbrella made of animal skins and so perhaps Hanway was not the brilliant mind behind the umbrella, but he was the first man to dare to use one in London and look ridiculous in the eyes of his contemporaries.
No English gentleman would risk being seen in public with an umbrella. For nearly 30 years, Jonas Hanway played the fool among the snobbish pedestrians, proudly promoting the sensible apparatus made from animals' ribs and stretched cloth and which would democratize the city streets and have a serious impact on the carriage business. The coachmen repudiated this pompous and effeminate man that strolled around dry in that fine and irrepressible English rain and as a result ushered in an era in which carriages would no longer be indispensable to all. As his "portable roof" gathered popularity, people preferred to walk in the rain than pay a hackney carriage.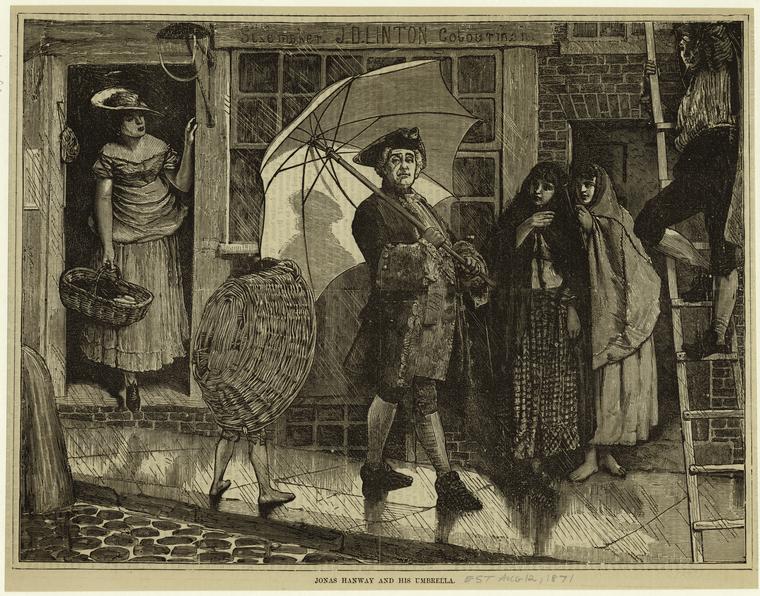 The English word umbrella reveals its original function; it derives from the beautiful Latin word umbra, meaning "shadow". Umbrella is now a poetic appropriation coined by Hanway that gives us the meaning "little shadow." A shade that is smaller than that produced by the Persian parasol, and which is useful and portable. Before Hanway brought the umbrella into daily use, Englishmen and women would protect themselves from the inclement London weather with several layers of socks and flannel underwear. As a result, although the new accessory was seen with hostility as ridiculous and effeminate, it became an accessory of the most respected English gentlemen within Hanway's lifetime.
By 1800 an English umbrella had become very sophisticated: It weighed around five kilos and its framework was made from whalebones and wood. There were some that included a rapier, a small sword or dagger, in the handle, or featured baroque ivory decorations. After all, the umbrella also served as a cane and that was pure esthetic prestige. The metal, U-shaped handles arrived in the 1850s and their weight and cost was considerably reduced.
Nobody would have thought that a merchant called Jonas Hanway, who one rainy day decided to leave the house sheltering under a "portable roof" and who faced such hostility from respectable London society and from coachmen would have inaugurated an institution that is now an essential part of everyday London: the city of umbrellas.
Main image:  Illustration from the collection of silhouettes relating to Russian poet, Alexander Pushkin, published in 1949.
Inserted image: 1871 St. Swithins Jonas Hanway Umbrella Street Scene Linton Shop.
Related Articles