The Amazing Story of Nelly Bly, Journalistic Pioneer
One of the first women to venture into investigative journalism, an adventurer, and a minority rights advocate, Bly was always subversive and captivating.
Nelly Bly (1864-1922), one of the first women to brave the waters of journalism, is today largely unknown to the vast majority of people. Her rebelliousness and her style made her an indispensable figure within the history of the genre. A bold writer, she influenced generations of later chroniclers, her style of dress became a fashion during her own time, and the adventures she lived through are worth remembering even today.
Born into a poor Pennsylvania family, Elizabeth Jane Cochran received little formal education. Her brilliant career began in 1885, when she was but 21 and in an altogether outstanding way. Having read a misogynistic article published in the Pittsburgh Dispatch, she wrote a scathing anonymous letter to the editor. Upon reading it, the editor contacted her to work with him, despite her being a woman.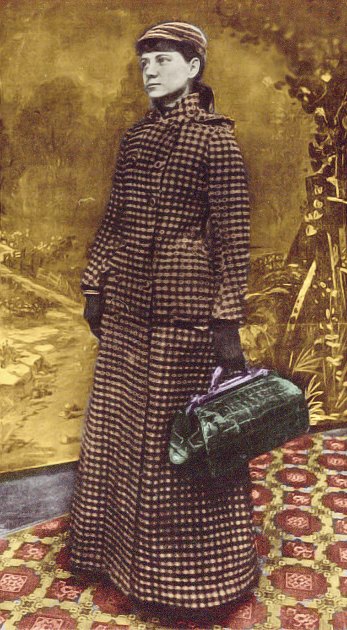 As a writer, she went by the name Nelly Bly. She began writing articles on what women were then expected to cover: fashion, decoration, and gardening. Tired of this type of content, Bly traveled to Mexico to become a correspondent. Six months later, upon returning to the United States, she began working for the New York World. Her first articles there, and one of the reasons she's remembered today – was an exposé on a women's mental hospital on Blackwell's Island (now Roosevelt Island in New York's East River). The article was titled Behind Asylum Bars.
Upon hearing frightening tales of what was happening in the institution, Bly posed as a mental patient to gain admittance. This was to be her first undercover investigative job. What took place inside surpassed her worst expectations. Patients – many of whom were not mentally ill but immigrants unable to speak English – were tortured with buckets of ice water and barely fed. After experiencing all of these atrocities, Bly managed to escape her confinement and wrote an article in which she denounced the conditions in which the women were being kept. The article had such an impact that authorities were forced to improve conditions in the hospital.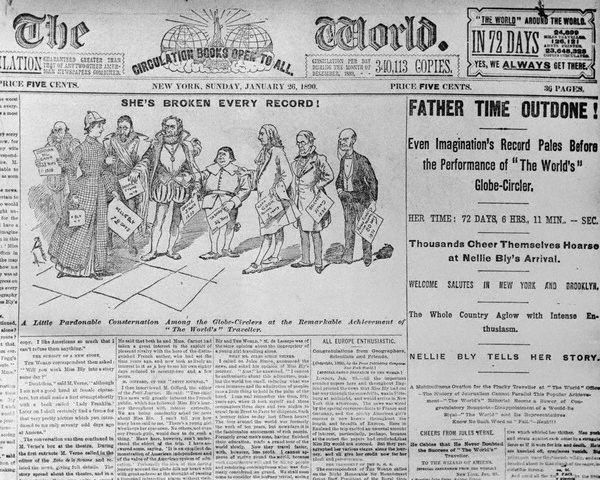 Bly's work thereafter led to a successful career in investigative journalism. She impersonated everyone from an unemployed maid, to a single mother trying to sell her baby, an elephant trainer and a ballerina in stories that earned her an important place in the press and in the intellectual world of the United States.
One of Bly's most memorable exploits was a 72-day trip around the world in 1889. Inspired by Jules Verne, Bly's trip established a new world record and revealed yet another facet to Bly. She traveled with but a small, lightweight suitcase which she carried herself. She wore comfortable clothes and a hat in the style of Sherlock Holmes. Among her final works were reports from Austria during World War I.
Although some of her writings reflect her own prejudices, Nelly Bly worked hard to denounce injustice and to assist otherwise unprotected minorities. A born actress, she developed her own literary style and fought for the rights of her gender (during a time when the battle for female suffrage had only begun). She laid much of the foundation for an understanding of contemporary women, at least in the English-speaking world, and became a pioneer in trades that are as vital today as they were a hundred years ago.
Related Articles