Visible Only After the Rain, Poems on the Streets in Boston
"Raining Poetry" looks for a break in the rain, inviting pedestrians to enjoy verse in the sidewalks.
When the rain starts falling, people take to their umbrellas or their raincoats and they quicken their pace to take shelter from the impending downpour. A project in the city of Boston, though, may give passersby an unexpected reason to slow down: sidewalk poems hidden until the pavement gets wet.
"Raining Poetry" is a collaborative project of the city council and the Mass Poetry collective, and supported by the Mayor's Mural Crew, a group which specializes in urban art applications.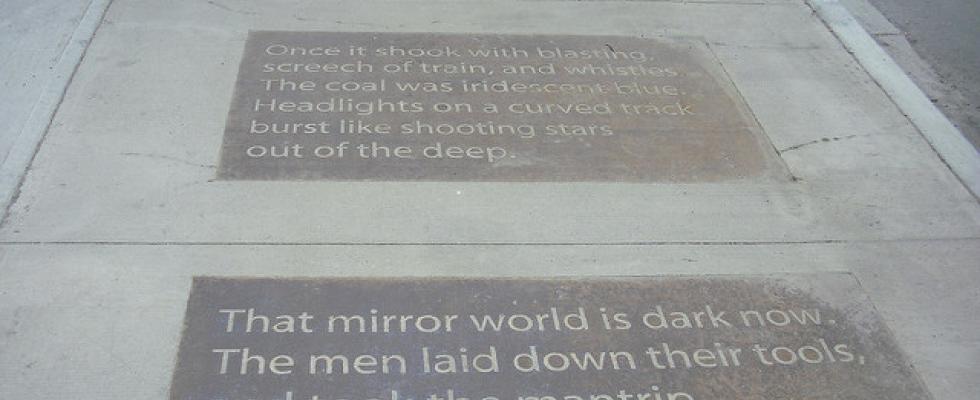 The poems are stenciled and aerosol sprayed onto dry pavement, and remain invisible to passersby. But when they get wet, the contrast displays the verse of contemporary and classic poets.
If you go out for a coffee on Dudley Square, you could run into a few verses of the great Langston Hughes. The project aims over the next few years to confront "everyone in the state with a poem during their day-to-day lives at least once or twice a month," according to Sara Siegel, director of Mass Poetry.
Rain, clouds and atmospheric phenomena are hardly alien to poetry. Mark Strand and Wendy Mark collected 89 different ways of seeing cloud movements in their poem, 89 Clouds. G. K. Chesterton proclaimed the surprise of rain, "that inspiring and delightful thing." But then "what exactly is the sound of rain?," asked Yugo Sakamura, and Cartsen Nicolai imagined, in this short film, what it would be like to live right on top of a cloud, showing that the pleasures of a storm are always a source of wonder.
Related Articles