When Vladimir Nabokov Hand-Drew a Map of Joyce's Ulysses
No book contains such a marked cartographic narrative as "Ulysses", which is why Nabokov believed this was the best way to teach and understand the book.
If you have ever read or heard something about Ulysses by James Joyce, you will know that the characters draw a perfect map of Dublin throughout the day that goes by in the novel. This map is so precise it has led some people to say that the city of Dublin in 1904 could be precisely rebuilt employing the novel as a guide.
Joyce was an obsessive symbolist and, as such, his character Leopold Bloom is the same. As he walks, he names every street obsessively as if he was extending an invitation to the reader to escape the narrative and enter the city instead. Every chapter is a palimpsest in the shape of Dublin (of its rivers that symbolise Hades, the west that symbolises death, the roundabouts and street corners that change the narrative technique), and the novel, in its entirety, represents the history of Ireland. This is why drawing the map of Ulysses at the same time we read it is essential. And Nabokov knew this well. As a matter of fact, he taught a seminar on the novel, and left this as a suggestion for anybody who wanted to teach it:
Instead of perpetuating the pretentious nonsense of Homeric, chromatic, and visceral chapter headings, instructors should prepare maps of Dublin with Bloom's and Stephen's intertwining itineraries clearly traced.
Who wouldn't have loved taking those lectures with Nabokov? The fruitfulness of his time standing before a class room appear in his collection Lectures on Literature , if you ever want to enjoy the feeling of sitting in his classroom. Many maps of Ulysses have been traced with the purpose of understanding the spatial continuity of the novel, but few are as unforgettable as the one drawn by this beloved Russian.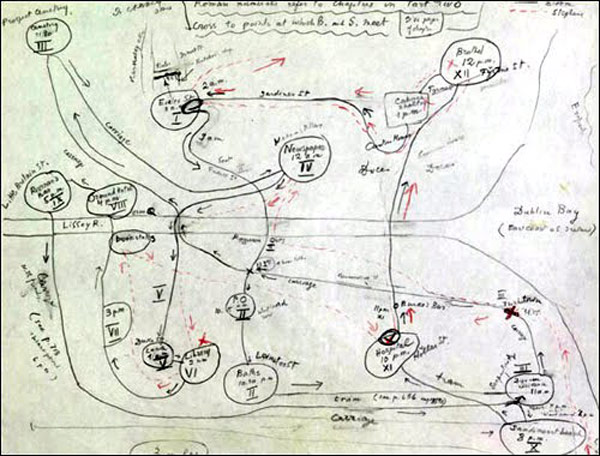 Related Articles