Wondrous Crossings: Laguna Verde Beneath the Lincancabur Volcano
The Green Lagoon, in Bolivia, majestically adorns this volcano; a natural composition that touches the deepest fibers of those who set eyes on it.
There are places that are so imposing that they invite you to forget yourself. When natural beauty embraces, there is only room for acceptance, feeling the experience and being enwrapped by it. The ego seems to become diluted and fused with the environment, at least momentarily —nature is the ultimate trigger of mystical observation. This is the type of experience that arises during the contemplation of the Green Lagoon. Located in the Eduardo Avaroa National Andean Fauna Reserve, in Bolivian territory, near the border with Chile, this sublime aqueous chamber majestically embellishes the skirts of the Lincancabur volcano.
In contrast to its striking color, the water's stillness makes this lagoon a type of temple erected to honor serenity. The color of the water is caused by its high concentration of minerals. Paradoxically, this makes the water particularly toxic, which inhibits the possibility of marine life, but, in turn, it endows the place with an unusual beauty. To add more color to the extravagant landscape, dozens of flamingos stand on the water, creating an astounding contrast with the landscape.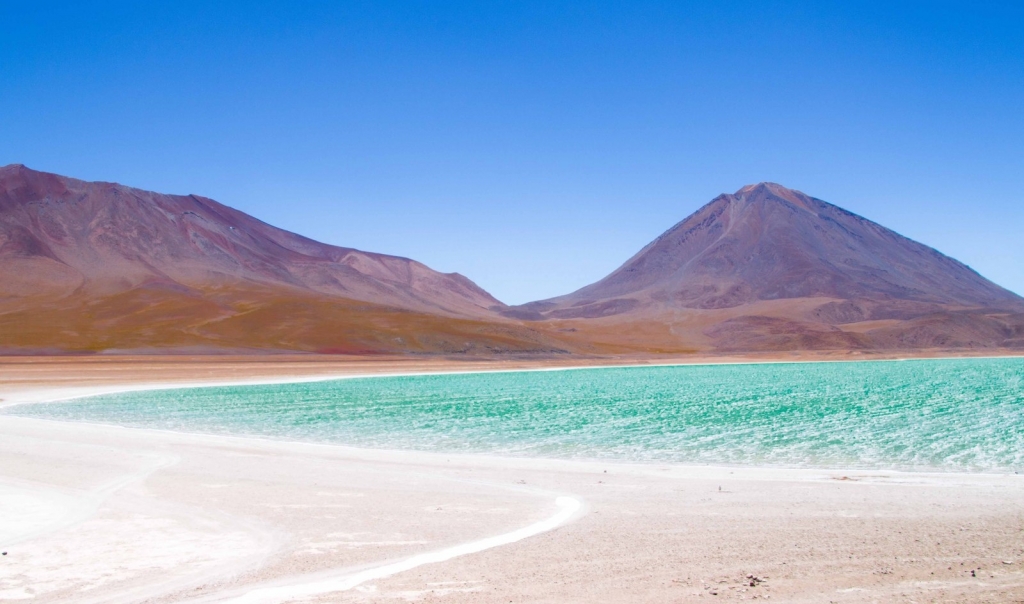 Lincancabur, the Volcano of the People, bejewels the lagoon as if it were a regal cone-shaped crown. This is a dormant volcano, whose summit is covered in snow. It literally divides the frontier between Bolivia and Chile, making it an unquestionably beautiful geographical reference.
Behind the Green Lagoon, there is a mountain range, whose snow covered peaks resemble, from high up, a valley of forlorn clouds. The deserted feeling that surrounds it, framed by the Andean mountains, and the presence of a liquid mirror with dazzling colorful hues, make this place an epic corner for travellers who love ontology and nature.
Related Articles