Wondrous Crossings: Pamukkale, Natural Pools Embedded in a Mountain
In Turkey, in a place that was once known as the ancient Greek city of Hierapolis, these pools of limestone are found in a rising cliff.
Recurrently, our planet's vast natural wonders could refer back to a metaphor of perfection and perennial changes. The same can be said of the human being, of our ever changing perfection. Following the same train of thought, one of the human activities that favour the possibility of dimensioning perfection and its variables the most, is travelling. The act of travelling itself implies multiple metaphors surrounding existence, and it gives a new meaning to life, or at least it is able to take us closer to that enlightened state.
Pamukkale is the type of place we daydream about, a metaphoric space, and its colours make it endearing, while its anatomy make it challenging. Like an enormous melting cake, it is made of white layers of limestone that appear to have been frozen while they fell over time. Small turquoise pools are formed at the base of each waterfall, settled as Jacuzzis that seem explicitly designed to contemplate the precipice. This paradisiac place is located in Turkey, and the top of the cliff, the Greek city of Hierapolis was established in 180 BC. Today its ruins share the landscape with thermal water springs.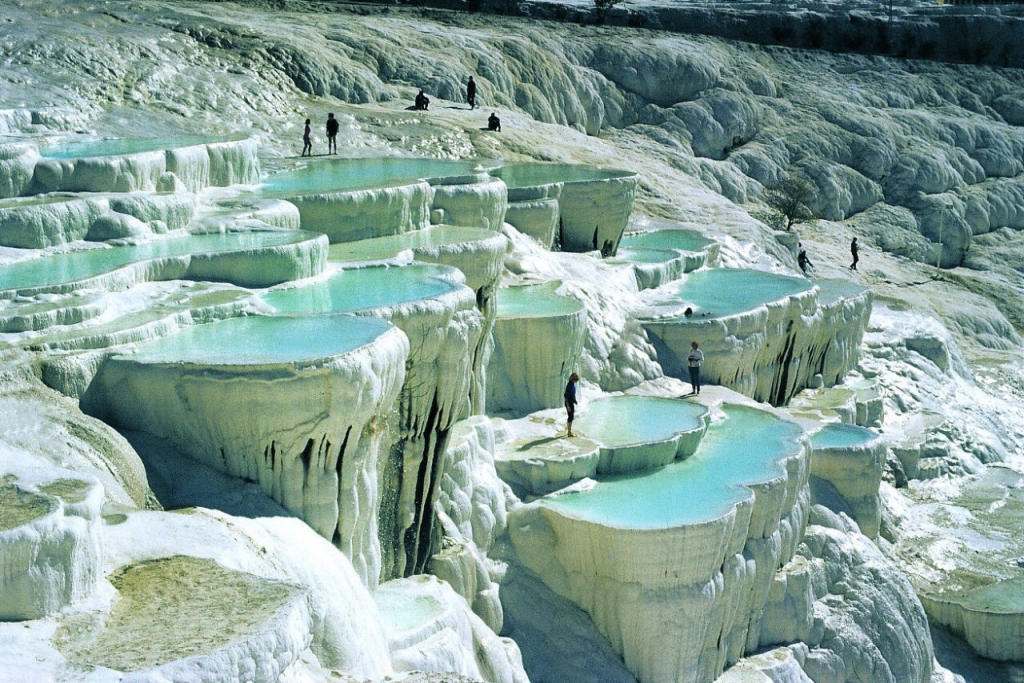 In Turkish, Pamukkale means "cotton castles", which alludes to the colours and shapes of this peculiarly beautiful location. Its fossilised cataracts are made of layers of limestone and travertine, which make their way down in the form of petrified waterfalls. The Greeks attributed their waters with therapeutic properties, they considered them to be a gift from the god Asclepius and his daughter Hygeia —the goddess of health, hygiene and healing. Currently these famous thermal springs continue to be held in high regard for their healing properties.
In 1988 Pamukkale was declared a World Heritage site. It can be described as a fluvial cliff —however its singularities make it hard to define its precise geological condition. As a dream made of chromatic subtleties, and with a remarkable historical richness, the mysticism of the location is yet another ingredient which permeates the experience: open and sensitive minds to the vastness of nature and life itself, will undoubtedly rejoice in the turquoise of Pamukkale.
Related Articles