FORBES: The World's Most Visionary Hotelier Is Ready To Reinvent Luxury Travel
Arts
,
Buenos Aires
,
Lifestyle
,
Miami
ARTICLE COURTESY OF FORBES.COM
Late last January, while the world weathered the enduring grip of the coronavirus pandemic, an exciting announcement emerged from the hotel industry, a sector especially decimated by the impact of Covid-19. Faena, the inimitable luxury lifestyle brand behind Faena Hotel Miami Beach and Faena Hotel Buenos Aires, would partner with Accor, the Paris-based global hospitality giant comprised of more than 5,000 properties and 10,000 food & beverage venues across 110 countries, to strategically expand the Faena brand around the globe.
The news instantly buoyed the spirits of both industry watchers—who took it as a harbinger of luxury travel's triumpant post-pandemic recovery—and legions of Faena enthusiasts, breathless to learn where Faena's incomparable magic would manifest next.
For hotelier extraordinaire Alan Faena, the partnership marks a watershed in the evolution of the red-hot Faena brand, whose unique story began nearly 20 years ago with his (and billionaire business partner Len Blavatnik's) transformation of the once-derelict Puerto Madero docklands district of Buenos Aires into a cultural epicenter and the city's most valuable real estate.
His second epic real estate reinvention—masterminding the trailblazing Faena District in South Beach—made an indelible impression in the collective consciousness of luxury travelers in the all-important North American market, and cemented his reputation as a hospitality visionary without peer on the world stage. Having purchased four abandoned blocks along iconic Collins Avenue between 32nd and 36th Street, he and Blavatnik transformed them into a buzzing arts and entertainment district anchored by Faena Hotel Miami Beach—catalyzing a cultural renaissance that expanded and redefined the very notion of luxury hospitality in the process.
Now, with Accor's backing, Faena is poised to bring his singular clarity of vision to other far-flung corners of the globe—starting with the development of a Faena District in Dubai (no other destinations have yet been announced).
"The goal is to create 20 embassies in cities around the world where people can have a Faena experience. I have always envisioned this possibility of Faena expanding globally."
—Alan Faena
The groundbreaking Accor venture isn't the only project that's kept Faena busy over the last year. On May 4, he unveiled his latest creative endeavor, The Architecture of Being (Rizzoli). Penned at the height of the pandemic during a stretch of serious self-reflection, it's Faena's treatise on the defining tenets of both his personal journey (he came of age in Buenos Aires after the fall of Argentina's military dictatorship) and his professional evolution from fashion designer to powerhouse hotelier, as well as on the constructs of human potential. Divided into eight thematic pillars (including Vision, Silence, and Love), the book—a follow-up to his 2019 memoir-cum-coffee-table-tome, Alan Faena: Alchemy & Creative Collaboration—explores the guiding principles that fuel his sprawling, spectacular imagination.
As Faena succinctly puts it,
"To build my dreams, I first had to build myself. In this book I share the secrets of that architecture."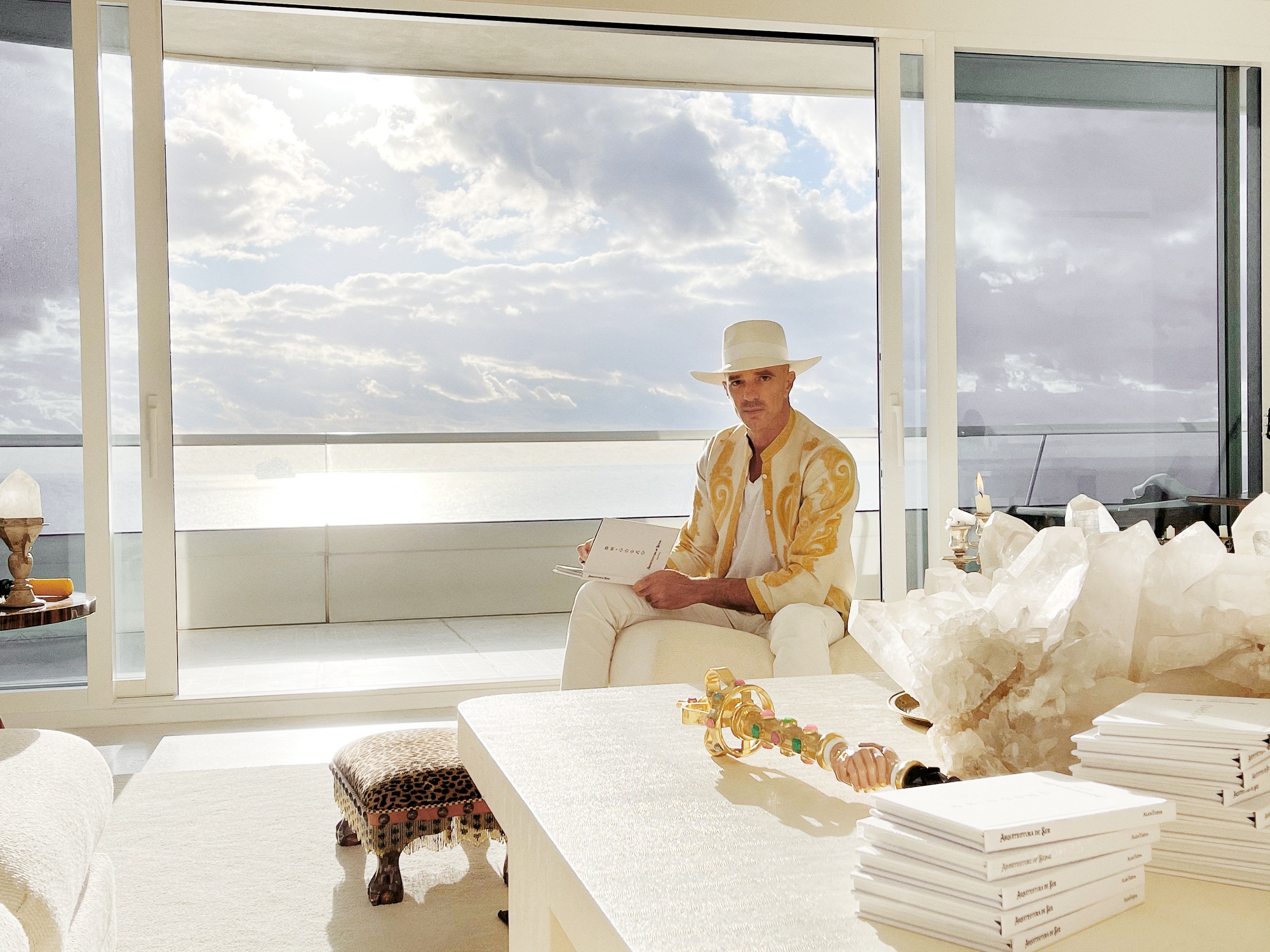 Meanwhile, at the Faena Hotel Miami Beach—which regularly commanded four-digit room rates even at the pandemic's height—every day's a glorious one in Faena's exquisite, red-and-turquoise-tinged version of paradise. Strolling through the breezy veranda of Los Fuegos, the hotel's signature restaurant, at lunchtime one Friday in March, you'd have been hard-pressed to find any sign of a global pandemic afoot. A festive din filled the air as elegantly attired guests nibbled on small plates of wood-oven empanadas and local snapper crudo, sipping Faena spritzes (vodka, champagne, Aperol, rose water, hibiscus) against the glittering backdrop of the hotel's umbrella-ringed pool and South Beach's powder-white sands and cerulean seas just beyond.
After dark, Faena hot spots like The Living Room, the hotel's close-quartered, lavishly leopard-printed lounge that's one of the most exclusive haunts in town, routinely draw the glitterati like moths to a flame—and this spring, there's even more reason to visit. In keeping with the age-old adage that the show must go on (pandemic or no pandemic), in March, the Faena Theater—a 3,000-square-foot jewel box swathed in red velvet and tinged with gold—debuted its latest tour de force: Tryst—A Lovers' Rendezvous.
True to the Faena ethos, the contemporary cabaret is high-octane, soigné, and seriously sultry: think hypnotic lighting, an addictive soundtrack of reimagined hits (Britney Spears' "Toxic" and INXS' "Never Tear Us Apart" among them), and impossibly beautiful performers spinning and twirling in dizzying, at times death-defying acrobatic feats high above the stage. In between pulse-pounding depictions of love and seduction, charismatic emcee Kat Cunning engages audience members with witty tales of past and present paramours, even bringing them to their feet at one point for a quick dance.
Throw in some show-stopping, oversized feather fans, a few breathtaking fire dances, and an inspired saxophonist who appears every now and again, and the overall impact is unspeakably sexy, vaguely surreal, and thoroughly transportive—a flurry of feelings perhaps best described as "the Faena effect."
---
ARTICLE ORIGINALLY FEATURED ON FORBES
Alexandra Kirkman Contributor | Forbes.com