Dancing After Dark
Saxony Bar, the super sexy, discreet sister to Faena's Living Room lounge, is where those in-the-know go to imbibe top-shelf libations and dance well into the evening.
SAXONY BAR AT FAENA MIAMI BEACH 
Article from Faena Journal Issue #46 • December 2021
The nightlife lounge tends to fly under-the-radar thanks to its penchant for exclusivity. "We curate the crowd to ensure the energy is always right where it needs to be," says Richard Filippi, Faena's VIP nightlife director. "It's a very intimate venue and it's important to us that people mingle, dance and have an experience that elevates their lives."
Saxony Bar is an homage to what nightlife used to be, adds Filippi, where people would go after dinner for a fun night out. The foil to Miami's famed ultra-clubs, Faena's late-night lounge is perfect for rubbing shoulders with a select, eclectic group of guests. "We have a diverse set of people converging from the Living Room, Faena Theater and Gitano, as well as those coming directly to the lounge," says Filippi. 
"What they all have in common is wanting to have a great time."
The cocktails are just as sophisticated as the onyx and gold-trimmed Art Deco space. Experienced bartenders serve well-mixed Old Fashioned drinks, Manhattans and Negronis with top-quality spirits like Angels Envy Bourbon, Woodford Reserve and Hendrick's Gin. "Our most popular signature cocktail is the Smoke and Sparks," comments veteran bartender Troy Straker, which is a heady mix of jalapeño-infused tequila and mezcal served with a dash of fresh-pressed lime juice and agave bitters. "Ladies love the Faena Spritz," he adds. 
DJ Yacine Guerbi, former resident DJ at Cipriani New York, spins a mix of 80s, old-school hip hop, disco, rock, remixed world music and everything in between. You'll hear hits from Madonna to Dua Lipa, Abba to Gloria Estefan, Lionel Ritchie to the Rolling Stones."People love to dance to music they can sing along to," Guerbi says. And he knows just what to play and when to keep the party pulsing all night long. "I want people to talk about what a great time they had for days, and then come back again."
---
FEATURED COCKTAIL
Legacy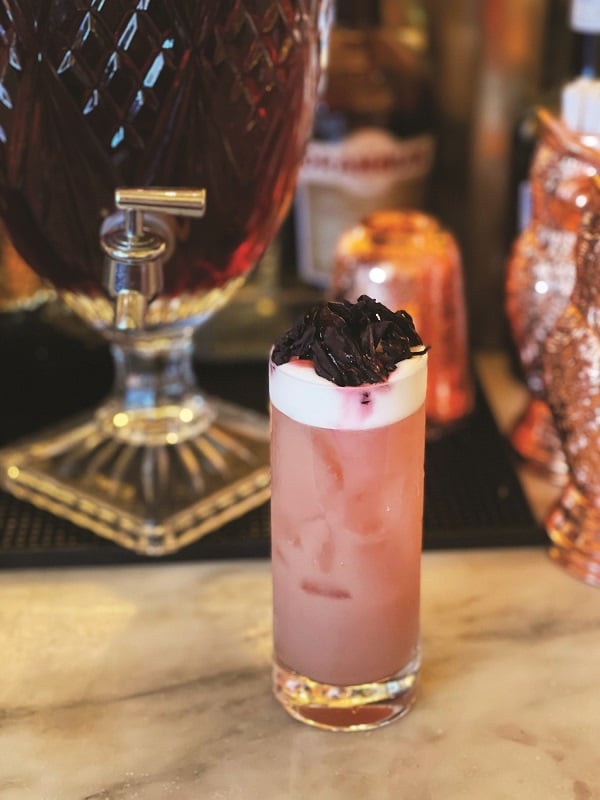 Crafted by Faena bartender Nikita Kusakin, the Legacy cocktail is a harmonious fusion of Martell Cognac Cordon Bleu, blue lavender, lemon, and dashes of egg white to create a smooth and balanced aftertaste.
On the palate, the semisweet bouquet of the cognac with notes of honeydew melon, roasted almonds and apple butter is brightened with citrus and balanced with floral notes. Garnished with colorful hibiscus flowers and served in a Collins glass, Legacy is a light and refreshing beverage perfect for sipping under a setting sun.
Article from Faena Journal Issue #46