The Rocking Chair of Sam Maloof –– Furniture with Spirit
The legendary carpenter transformed a chair into a link with the very essence of the human spirit.
"There's a lot of work being done today that doesn't have any soul in it. The technique may be the utmost perfection, yet it is lifeless. It doesn't have a soul. I hope my furniture has a soul to it," remarked the legendary carpenter, Sam Maloof.
There's something in him, in his way of working, reminiscent of traditional Japanese carpentry, in which part of a cobra tree gains a second life when converted to furniture. Entirely self-taught, Maloof created some of the most beautiful and sturdiest furniture in history, and though all have the quality of sculpture, he was never an artist but a carpenter. He was a worker who considered his hands as a medium between the mortal and the divine.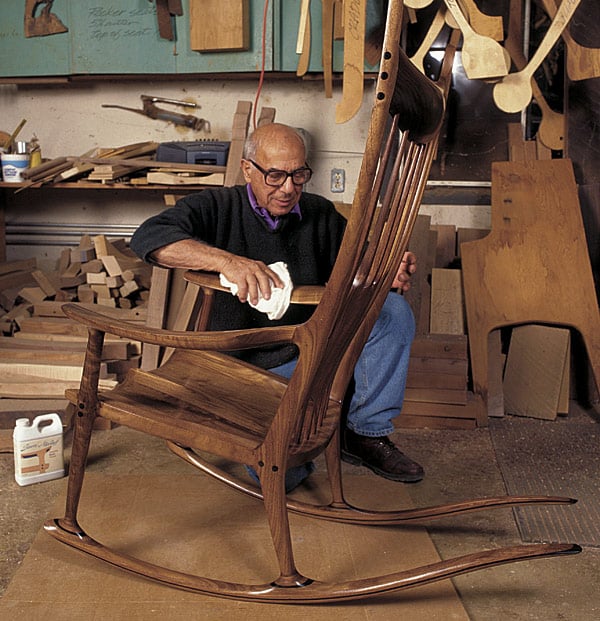 One of his rocking chairs, donated to the Smithsonian American Art Museum in 1997, displays the ideal balance of beauty and utility. "Art in the service of utility" is the essence of Maloof's philosophy of design. If the chair is already that most "human" of furnishings, one that exists precisely because it reproduces the form of the seated person, the rocking chair has it more so, the grace of rhythm, and a repetitive melody. Hypnotic, it links the human with magic. No wonder rocking chairs have been the favorite setting for the feeding and lulling of babies, and for watching afternoons pass. There's something quite literally charming in the maritime movement of that particular piece of furniture. Designs by Sam Maloof, when they appeared in the late 1940s, were quickly commissioned because their shape simply emanated beauty.
Maloof handcrafted each of his more than 5,000 furniture pieces at his workshop in California. "I want to be able to work a piece of wood into an object that contributes something beautiful and useful to everyday life. And I want to do this for an individual that I can come to know as a friend," he said once as if penning the manifesto that he always held to the letter. He was a simple carpenter who made history because the chairs he made were alive; they had spirit.
Images courtesy of SAAM.
Related Articles