Broceliande, a Journey to Merlin the Wizard's Mythical Forest
In the confines of official cartography and medieval mythology this deep forest is home to Merlin the Wizard's secrets.
The Paimpont forest covers roughly 50 squared kilometres and hosts the legendary forest of Broceliande, which exists in our dreams more than on any real map. It appeared in literature for the first time in 1160, in the Roman de Rou, a saga written by Wace about the dukes of Normandy. Broceliande is found at the very core of French Brittany and its aura is unique in the world since it was the land of Druids and Celts, and it retains ancients bonds with the legend of King Arthur and the Knights of the Round Table.
Every crevice of this forest is a legend, and those who have walked it in winter will have seen many faces forming in the snow which covers the giant oak trees. Here we can find, among dozens of mythical places, the Mirror-aux-fées, or "Fair Mirror": a marvellous lake whose bottom, according to legend, holds a mirror where fairies look at themselves. Broceliande is also home to the "Valley of No Return" and to the fountain of Barenton –– from where the legend of eternal youth springs, and where many swear the tomb of the Great Merlin lies, the "Soul of Brocélandie". Each year thousands of flowers, bracelets and poems cover this mysterious tomb.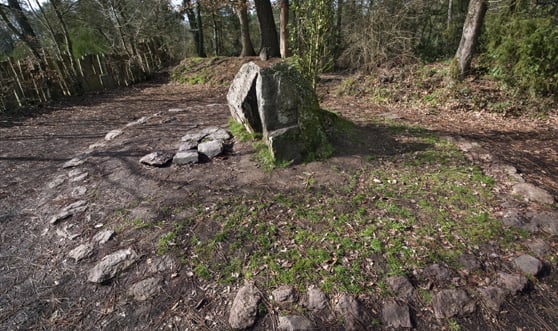 Many important plants inhabit this forest, such as the famous "Tree of Gold", a Holy Grail of sorts for medieval alchemists. There is also the Guillotine Oak, which is over a thousand years old, and the "Tree of Hindres", which has a diameter of 5 metres.
This allusion to Broceliande is an invitation to discover the medieval imagery that has made every rock, every tree, and every lake in Brittany a magical symbol linked to the legend of King Arthur. Merely walking through these forest is feeling a strange power that is unrelated to whether its real or mythological.
Related Articles