The Most Beautiful Illustrated Letters by Artists and Writers
More than Words: Illustrated Letters from the Smithsonian's Archives of American Art is one of the most stunning projects concerning illustrated letters.
"The humane art owes its origins to the love of friends, said Virginia Woolf when referring to epistolary correspondence. But now the public of letters has changed. We read more letters by people we do not know, above all by dead writers, than letters we receive from our friends with our name on them, even though we still delight in them. Today, unlike in past centuries, epistolary correspondence is loaded with indiscretion, and also perhaps a little envy.
We are not epistolary because, although there are campaigns and initiatives to return us to the mail, we have shifted our rhythm. We are in essence more impatient. We will perhaps sometimes write letters but we will lose the continuity because we have a much more effective means of communication to hand. When we read letters written by strangers, be they artists or writers, we feel a kind of envy at the intimacy they were given and the emotional "comfort" that sending and receiving something, above all in an envelope, implied.
More than Words: Illustrated Letters from the Smithsonian's Archives of American Art is one of the most stunning projects regarding letters because as well as bringing together missives by some of history's greatest artists, such as Lucian Freud, Man Ray, Frida Kahlo, Alexander Calder, Andy Warhol and Antoine de Saint Exupery, all the letters are illustrated. They contain more than words, as the title suggests, because sometimes in the margin of the texts there is an opportunity to expand on the language, enrich it and fill it with feeling.
Here are some of the most noteworthy hybrid letters that achieved a truly genuine human trait: to mix all resources to transmit a message in the best possible way.
Joseph Lindon, for example, was an American illustrator who was best known for being the artist who traveled to Egypt to document the excavations at Giza and the Valley of the Kings. In 1894 he sent this letter to his parents from Paris, having had enough success to tell them: "Behold your son painting under a shower of gold."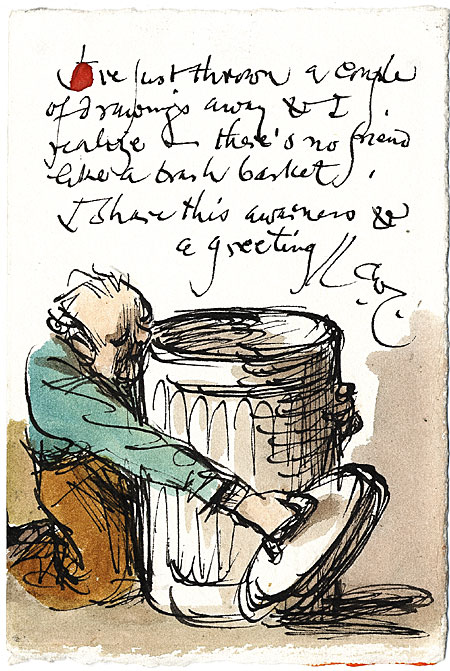 Warren Chappell (1904-1991) wrote to his friend Isabel Bishop (1902-1988), "I've just thrown a couple of drawings away and I realize—there's no friend like a trash basket." Postcard, September 6, 1982. Isabel Bishop papers.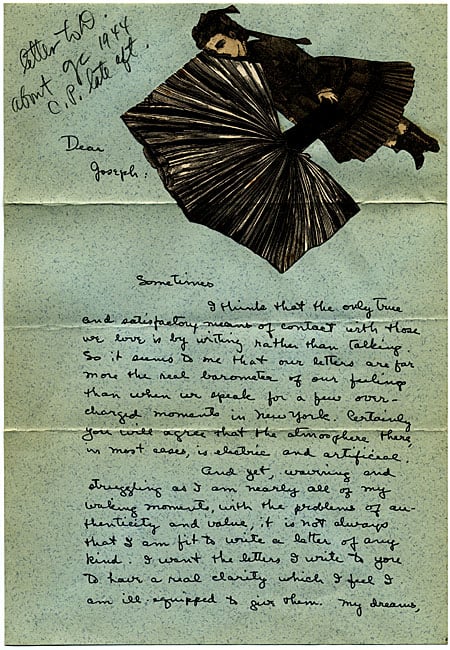 Letter from Dorothea Tanning (b. 1910) to Joseph Cornell (1903–1972), March 3, 1948. In her autobiography Between Lives [Dorothea Tanning. New York: WW Norton and Co, 2001.] Tanning writes of her correspondence with Cornell, saying *I tried to decorate my letters his way* (90). Joseph Cornell papers.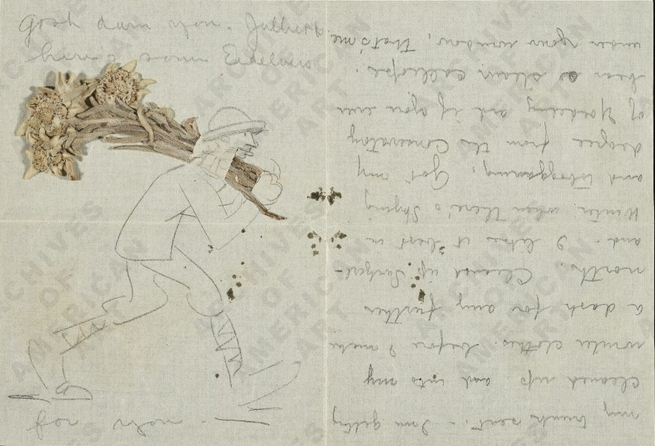 Alfred Joseph Frueh to Giuliette Fanciulli, Sept. 17, 1912. Alfred J. Frueh papers, 1904-1993. Archives of American Art, Smithsonian Institution.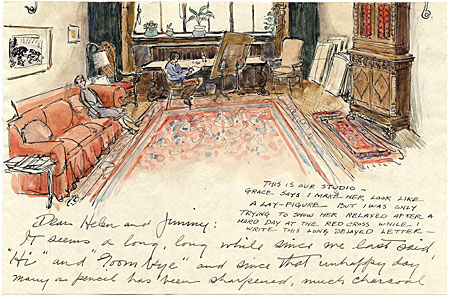 Letter from illustrator Paul Bransom (1885−1979) to Helen and Jimmy Hays. In the 1920s, the Bransoms built a home and studio at Canada Lake in the Adirondacks, where they were part of a small summer colony of artist and writers including Helen Hays, Clare Dwiggins, his daughter Phoebe Dwiggins, Todhunter Ballard, Charles Sarka, Margaret Widdemer, Mabel Cleland, Herbert Asbury, Emily Hahn, and James Thurber. In this 1943 letter Bransom paints his home studio. Helen I. Hays papers.
Letter from Rockwell Kent (1882–1971) to Frances, 1929. Rockwell Kent papers.
Related Articles