One to Watch - Faena Theater's Riveting New Revue
It's not a crime to stare in Faena Theater's titillating new production, Tryst – A Lovers' Rendezvous, conceived by Alan Faena in collaboration with Quixotic and starring headliner Kat Cunning.
"We didn't come out of quarantine to sit in a quiet  boardroom," snaps Cunning to the still buttoned-up circle of theatergoers surrounding them— slowly reeling them into the palm of their hand where they'll dwell contentedly for the next 90-minutes.
Cunning, the show's compelling protagonist, guides viewers on a libido-pumping journey through suggestive tales of ardor and seduction from their past, present and future, often exhibiting their lovers on their "best and worst behavior." The racy and often hilarious revue explores the many facets of modern love and desire through a series of immersive vignettes that combine classic and contemporary music, digital projection mapping, cirque arts, burlesque, and cabaret. The show, in all its risqué glory, pushes boundaries in characteristic Faena fashion with storytelling that borders on "Fifty Shades of Grey." It also confronts heteronormative expectations by exalting all manner of love, intimacy, and sexuality.
"We keep it highbrow with a lascivious wink,"
"We keep it highbrow with a lascivious wink," says Cunning, who collaborated on the script with Quixotic founder Anthony Magliano. "We wanted their personality and wit to shine through and we worked together to keep it very organic and true to their own style," adds Magliano. Cunning also provides superstar vocals, dance sets, sassy improv, and their own original music. The other ten artists in the ensemble are no less extraordinary— executing bodily feats that will have your jaw smacking the dining table's red-linen tablecloth. Contorting lovers perform a sensual vignette that makes the Kama Sutra look basic. A dancer spins faster than a paramour's heart on tango trapeze number. Drag queen and guest star TP Lords thrills the audience with a hand-orchestrated laser show.
That's to say nothing of the vintageglam striptease, leather bondage and fire-toting pole routine. There's softer side, too—a romantic duet of acrobatic lovemaking on a corde lisse, an acoustic ukulele serenade  and nostalgic saxophone interludes.
"The entire cast is so powerful and diverse in their skills and presence on stage," 
Cunning's sultry voice is the resonant thread that carries guests through their explicit escapades. A soulful rendition of pop songs juxtaposes electric performances of Cunning's personally penned tracks like the empowering 'Confident,' haunting 'Wild Poppies,' and ear-catching 'King of Shadow,' which is featured in the Netflix series 'Trinkets,' in which they also star. Quixotic composer Shane Borth rounds out the score with mashups of David Bowie's 'Life of Mars,' 'Are You Gonna Be My Girl' by Jet, and INXS' 'Never Tear Us Apart,' while Ernest Melton's explosive sax solos keep the level of energy and musicianship high.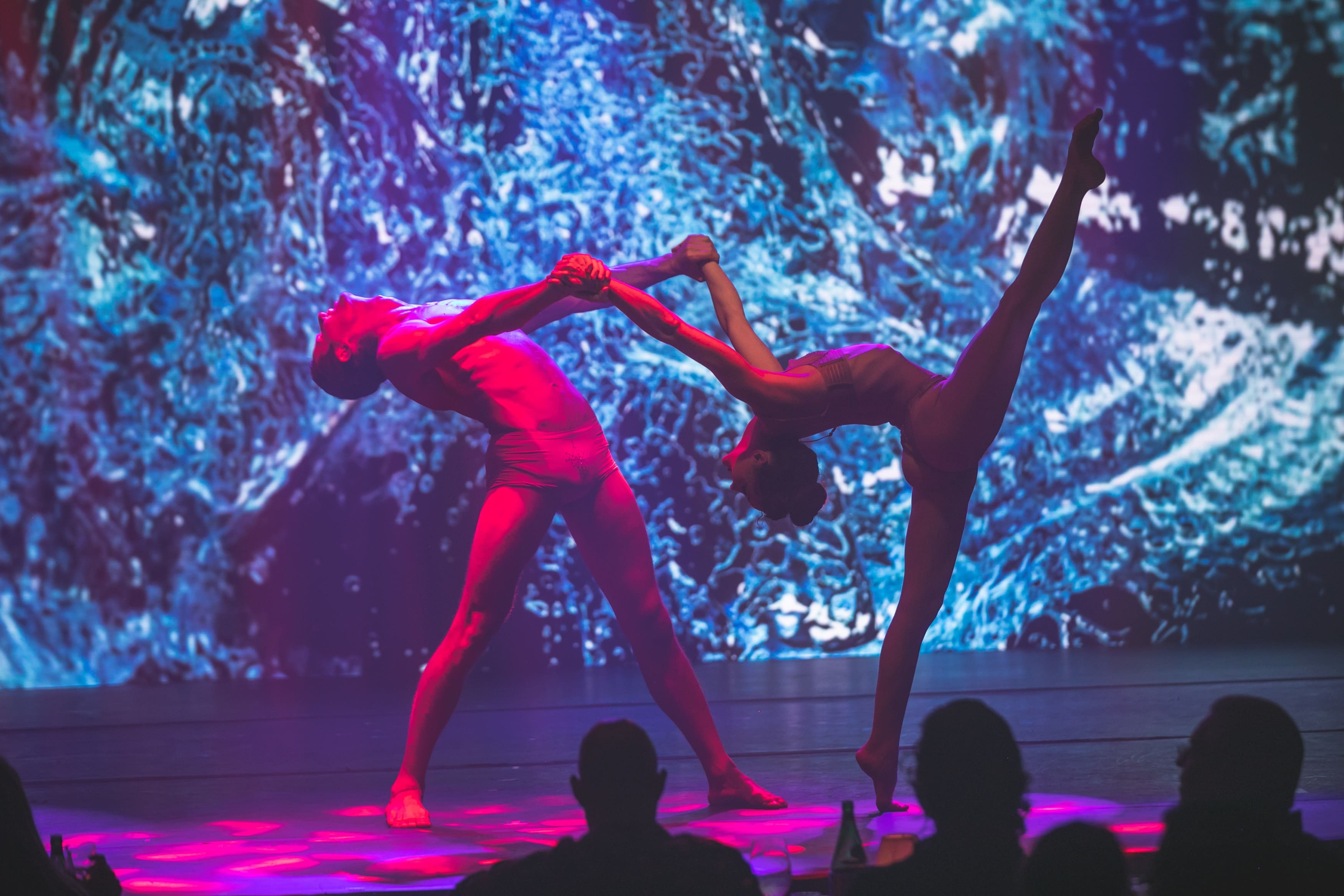 Hollywood-worthy costumes (when they stay on) are as dazzling as they are provocative. Designers Hollie Hermes, Vex and Carrie Cochran created a wardrobe of couture ensembles that heighten fantasy and add cinematic magic to every act. Cunning's fringed getups and power suit and bustier combos give off a heavy Madonna vibe, while chorus girls don red leather bodysuits and flirty swing dresses. Cheekier costumes inch toward BDSM with rhinestone studded dominatrix outfits, jewel encrusted lingerie, and glittering tassels. "We really try to give each piece its own signature look, style and feel," explains Magliano. "After a long hard year in the world we wanted to create something that left guests feeling good, uplifted and inspired."
Tryst, which took four months to create, is Quixotic's third show to debut in Faena Theater—a cozy 3,000 square-foot venue that evokes a Moulin Rouge milieu with red velvet, gilded accents, and a showpiece crystal chandelier.
"I love performing to a room where I can really get to know every face by the end of the night," shares Cunning. "The intimacy of that exchange has been so powerfully ephemeral and visceral, especially at a time like this."
---