Sonic Seduction
Faena's Music Director Alejandro Lista has spent years honing the music menu in The Living Room where a roster of live bands and DJs across genres performs nightly. As the weather cools, Lista heats things up with knockout acts from Miami's top musicians.
ARTICLE ORIGINALLY PUBLISHED IN FAENA JOURNAL ISSUE #50 • WINTER 2022
"When I first started curating music for The Living Room in 2015, everyone thought Miami was a city devoid of live music," said Lista. "So I went to a lot of shows and started asking artists I liked if they'd play at Faena." Since then, The Living Room has hosted more than 20 rotating bands and has become a sought-after venue to enjoy music as varied as pop, bossa nova, jazz and Latin funk. 
Friday nights come alive with beats from DJ Yissel, who is perpetually in-demand for her extensive knowledge and deep appreciation of music and ability to seamlessly blend house, hip-hop and R&B in any given set. "I love her vibe and style," said Lista.
 "We're also working with artist Javier Garcia prepping his new repertoire and band additions," Lista explained.
Moving forward, the bands are going to be presented more in line with a concert experience where the performance plays with tension and expectation. "
"Handsome crooner Louis Amanti will command the room on Saturday nights with a new collection of Elvis Presley songs played in a jazzy swing style. Lista noted that Amanti's Tuesday night residency will keep to a more classic and jazz-oriented setlist with songs that The Living Room guests know and love. 
Sundays are reserved for the French Horn Collective. "Their following has grown Sunday after Sunday, and they've created an authentic Paris in Miami vibe that our guests really enjoy."
Weekdays round out the lineup with Wednesday live DJ sets that will bend more towards funk and soul with some pop classics. On Thursdays, guests can groove to acoustic guitarist Carlos Andrade and his World Music trio. "His music blends jazz, pop, and flamenco in an original way," said Lista, "which epitomizes the fusion of sounds we aim to create in The Living Room."
FEATURED COCKTAIL
Gin and Tonic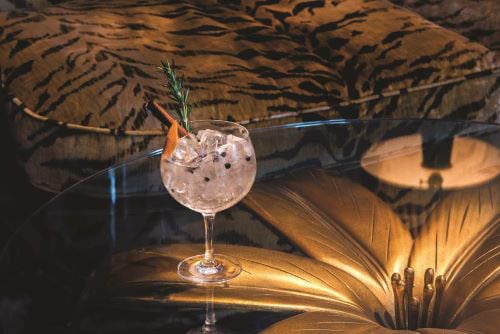 Bombay Sapphire Gin accentuates the bright and vibrant flavors in the same way Faena accentuates art and music. The gin carries beautiful flavors of juniper, citrus, heat, spice, and floral notes, just like Miami. This twist on a classic gin and tonic features Bombay Sapphire Gin, Green Chartreuse, fresh lime juice, all of which pair perfectly with Fever Tree Mediterranean Tonic Water.