Trust the Chef
Every two months chef Erik Melendez and sous chef Carlos Islava conjure up 17 new tasting dishes at the six-seat omakase bar El Secreto that respect traditional Japanese preparations, but come with a kick of spicy flavors that showcase their Latin roots.
ARTICLE ORIGINALLY PUBLISHED IN FAENA JOURNAL ISSUE #52 • SUMMER 2023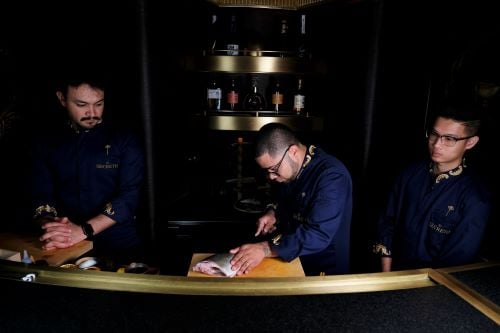 "I am from Honduras and chef Carlos is from Mexico, so you'll find a kick of spice from ingredients like jalapenos, chile de arbol and lime," said Chef Erik. The Kampachi Crudo is a delicious plate of fresh amberjack fish topped with pickled serrano peppers, candied quinoa, and an aji amarrillo sauce (a spicy Peruvian pepper) seasoned with agave, orange juice, and drops of cilantro oil. "We always want to add our own little twist to the dishes."
Courses feature fresh fish flown in from Japan, New Zealand and Spain including bioluminescent squid, sea bream, golden eye snapper, striped jack, ora king salmon, Japanese butterfish, and bluefin tuna that are paired with unexpected flavors to create an unforgettable bite. Oysters are brightened with lemongrass coconut foam; ceviche is swimming in a bowl of leche de tigre; and Hokkaido scallops are combined with kiwi and charcoal aguachile. 
Chef Melendez explains each dish in detail, translating culinary terms like 'ume boshi,' 'ponzu kosho' and 'negi dare' into plain English. He also provides enlightening anecdotes about where ingredients are from and how they are harvested and prepared including aged tuna belly, A5 Japanese wagyu, Wasabi root, fresh ginger and dehydrated caviar.  
The menu is laden with pleasant surprises. Surprising flavor combinations (sweet, spicy, umami), surprise dishes diners are challenged to identify, and surprising presentations that feel too beautiful to eat. And each season brings with it a new bounty: The new summer menu will showcase tropical fruits like passionfruit, mango, watermelon, and blackberries. 
"Omakase roughly translates to 'trust me,'" said Chef Melendez.
"I want to give you a culinary experience with the best we have to offer."