All Fired Up At Los Fuegos
The fires are roaring once again at Francis Mallmann's Los Fuegos. Whether it's an intimate dinner, a Sunday asado barbecue or a special celebration, the restaurant's flamelicked fare always makes for a memorable meal.
Mallmann protégé Argentine chef Sebastián Benítez has crafted a summer menu that focuses on simple, fresh ingredients. Chef suggestions range from crispy artichokes sprinkled with sesame and sourdough breadcrumbs to wood-fired eggplant milanesa with tomato chutney to a classic smoked tenderloin drizzled in foie gras sauce. 
"Each dish uses our various fire elements like the grill, cast-iron griddle and wood-fired oven," said Chef Benítez.
On Sundays, diners can experience the time-honored tradition of gaucho grilling with an authentic Argentine asado using a Patagonian fire dome. Justcaught  fish and buttery cuts of grass-fed beef like bife de lomo, vacío, entraña and bife de chorizo are hung to slow-roast from a sixfoot iron dome above a ring of glowing embers. An array of fruits and vegetables like whole pineapple and cabbage also dangle from wires, roasting in the woodfired heat.
Dishes are served on the Los Fuegos terrace where friends and family come together in the smoke scented breeze to uncork a bottle of Malbec wine and enjoy delicious flame-cooked food in good company, just as it's done in Argentina. A special Sunday asado will mark Father's Day this June with a set menu showcasing a degustation of starters like prime beef empanadas, beets 'al rescoldo' carpaccio and pear and prosciutto, succulent entrees and a sweet finale of traditional Argentine desserts.
During the South Beach Wine & Food Festival in May, Mallmann himself stoked the fires to serve guests a spirited evening of indulgence typified by his lyrical panache and melt-in-your-mouth menu of hanging bone-in ribeye and wood-fired branzino paired with roasted vegetables. "Francis is unique because he cooks genuine, unpretentious, authentic food," notes Chef Benítez.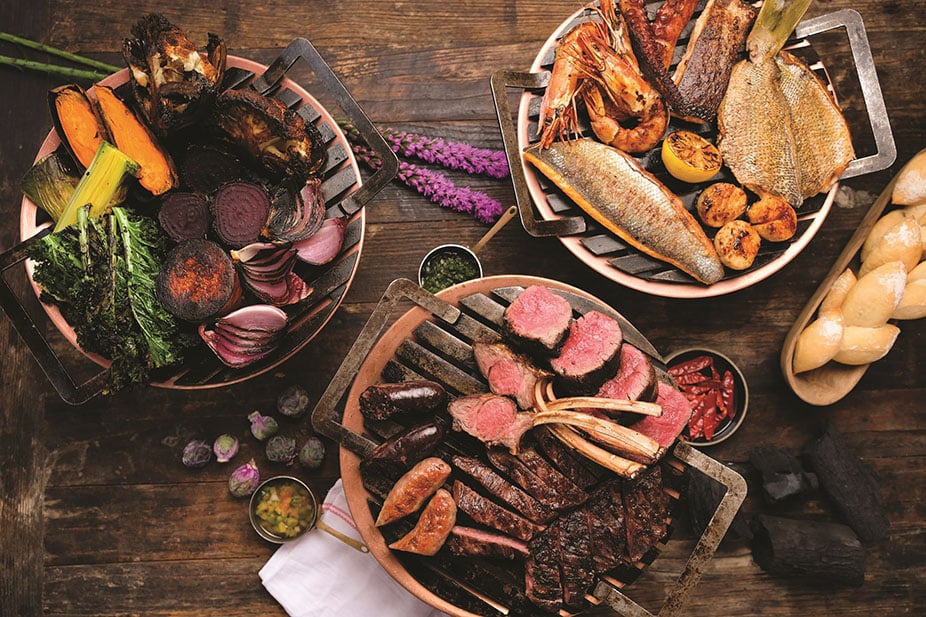 "The Los Fuegos kitchen is very particular because we don't use gas. Every dish is cooked over wood-fired flames." Growing up in Buenos Aires, Chef Benítez left architecture school when he realized his passion for cooking on a monthlong trip to Brazil. "I spent everyday cooking for my friends and the people we met during the trip, and up until that moment I had never realized the simple pleasure of making people happy with food." His passion for the craft has taken him all over the world including Australia, New Zealand and Spain. He's worked under such acclaimed chefs as Mauro Colagreco, Alex Atala, and of course, Francis Mallmann.
"I really admire Francis for his simple and generous cuisine and at the same time I'm inspired by a number of European chefs like Alain Passard, Pierre Gagnaire and Joan Roca,"
"I think it's important to have a foundation in the classics in order to be creative and develop your own identity as a chef." With years of training in the art of livefire cooking, Chef Benítez has grown to express himself much like his mentor Mallmann— using humble ingredients that when charred to perfection, satisfy the palate and the soul.
"I spent everyday cooking for my friends and the people we met during the trip, and up until that moment I had never realized the simple pleasure of making people happy with food." 
CHEF SEBASTIÁN BENÍTEZ