Artist Spotlight: Los Wizzards
Every night of the week talented local musicians light up the Living Room with live music across genres. There's Gypsy Jazz from French Horn Collective, Latin classics from Mi Dulce Son, and big band songs from crooner Louis Amanti.
ARTICLE ORIGINALLY PUBLISHED IN FAENA JOURNAL ISSUE #52 • SUMMER 2023
 Hailing from Venezuela, Jamaica, Cuba and Miami, this group of seven diverse musicians lean into their hometown roots to deliver high-energy performances that effortlessly segue from tropical rhythms to pop to dancehall. 
"Individually we've all been exposed to so many different genres, so when we come together collectively, we all bring those influences to the stage to create something of our own," said lead singer Roy G.
"We always try to bring the party."
Los Wizzards' fusion of Latin and Caribbean styles, energies, and flavors has a distinctive sound that's come to represent the cultural synthesis of Miami itself, garnering the band recognition on the city's biggest stages. The band won a competition to play at an NBA basketball game at American Airlines arena, and after a giving stellar performance, Los Wizzards was asked to become the Miami Heat's house band. In addition, front man Samy Hawk won an MTV competition and was selected to be a Pepsi-sponsored artist.  
Influenced by greats like Stevie Wonder, Michael Jackson and Bruno Mars, Los Wizzards plays their own compositions interspersed with song riffs from artists like Ginuwine, Ludacris and Daft Punk. Singers Hawk and Roy G. captivate the crowd with their lyrical storytelling, rapping, beatboxing and piquant dance moves, while the instrumentalists delight on the trumpet, trombone, drums and the Venezuelan cuatro (a type of guitar that has almost exclusively been used to play traditional folkloric music until now.) 
 
"Most of the time we're freestyling with different verses and solos," said Hawk. "We read the audience and decide what song is perfect for that moment." Jamming is part of the essence of the band, adds Wizzmer, the band's founder, leader and cuatro player. Some of Los Wizzards fan-favorite hits include "Spanglish Love," "Love Me," and "Now or Never." Their anthems, which are often delivered atop the lounge's furniture or from within the thick of a cheering crowd, inject an infectious dose of joy into the Living Room and people can't help but dance. 
"When we're on stage together, our commitment is making people have a great time," said Wizzmer.
FEATURED COCKTAIL
Dominican Passion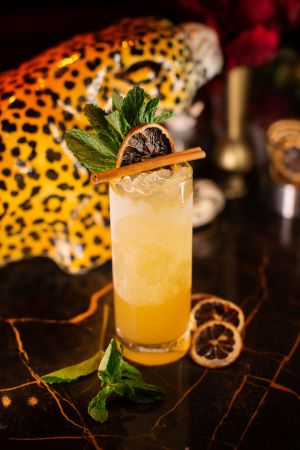 Talented mixologist Joseph Restani has crafted a cocktail that tastes like a Caribbean paradise in a glass. 
The Dominican Passion has a rich foundation of Brugal 1888, an oaky rum from Puerto Plata that's been double-aged in sherry casks and leaves notes of bourbon, vanilla, red fruits mingled with toffee and cocoa on the palate. The smoothness of the spirit is balanced with the tartness of fresh passionfruit puree, while a house-made cinnamon syrup adds additional sweet notes. The cocktail is finished with a splash of tropical fruit Redbull to add a powerful and refreshing kick, then garnished with a rum-soaked lemon and cinnamon sticks.