TRYST - Our Next Affair
Haven't you heard the rumor? There's a new legendary lover at Faena Theater. Her beauty is revered, her wit is razor sharp and her charm will steal your heart. Her name? Ariana Savalas.
TRYST CABARET 
A Lovers' Rendezvous
Our Next Affair
Article from Faena Journal Issue #46 • December 2021
The mistress of the modern Moulin Rouge has solidified herself as the top-billing burlesque queen holding court around the world, from the glittering Parisian Burlesques to the decadent Weimar German Cabarets. She now graces the stage of Faena Theater as the new master of ceremonies of Tryst—a seductive cabaret presented by Alan Faena in collaboration with Quixotic that explores love, intimacy and fantasy through immersive vignettes combining cirque arts and burlesque with live musical performances and striking visual projections. 
"Faena Theater offers a level of sophistication and intimacy that's second to none— the audience is just as much a part of the show as any performer" - Ariana Savalas
A singer, songwriter and multi-instrumentalist, Savalas has garnered a global fanbase as a vocalist for Postmodern Jukebox, a popular music collective known for reimagining contemporary hits with the vintage overtones of jazz and swing. Savalas performs her original songs at the open and close of the show with signature flair, setting the night's tone from start to finish with an artistry rivaling legendary greats like Mae West and Bette Midler. 
"Ariana elevates Tryst to new heights," says Shane Borth, Quixotic's composer. "She is sexy, fresh, hilarious and incredibly talented. Anyone who has seen Tryst before would be blown away by what she brings to the production."
After warming up the theater with an unexpected off-stage entrance crooning the lyrics of Fiona Apple's "Criminal," followed by a rousing piano performance of her own "Legendary Lover" ditty, Savalas promises the cozy crowd there is a sensual something for each one of them this evening. "We have men who love women, women who love men, women who love women, and everything in between."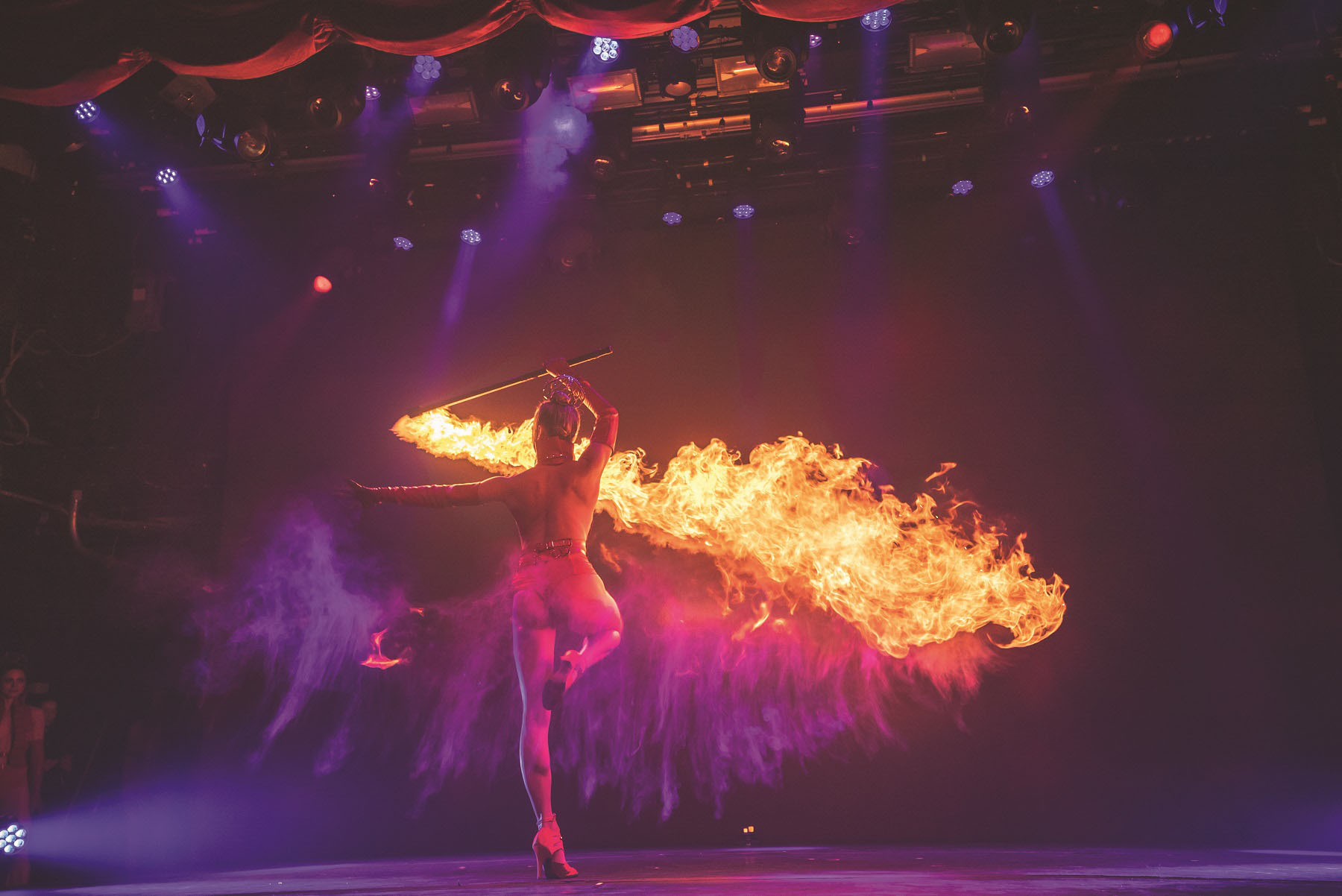 The scintillating revue takes guests on a libido-inciting journey through suggestive tales of ardor and seduction from Savalas' past, present and future. The opening duet recalls a first date, which starts off in the bedroom, "as all good first dates do," she muses. What ensues will leave you breathless: Impossibly sexy, barely dressed lovers spin from duo aerial straps in gravity-defying Kama Sutra poses to a stirring rendition of Chris Isaak's "Wicked Game." It's the epitome of passion, romance, and irresistible attraction. 
The rest of the performances are nothing short of electrifying with eye-popping Broadway-worthy costumes to match. A dancer in rhinestone pasties pirouettes faster than a paramour's heart in a tango trapeze number, a lithe fire fairy pole dances while wielding flickering flames, and the most exotic bird in the Faena flock mesmerizes with a Copacabana-era striptease. New to the cast, Emiliano Torres makes his red trumpet sing in exuberant jazz jams with ace saxophonist, Ernest Melton. 
Through it all, Savalas never misses a beat—captivating the crowd with rollicking improv, ukulele duets, showstopping mashups of Taylor Swift, Ben E. King and Billie Eilish, and some provocative surprises up her tasseled-leather sleeve.
"Faena Theater offers a level of sophistication and intimacy that's second to none—the audience is just as much a part of the show as any performer," says Savalas. "My hope is that people will leave Tryst feeling a bit sexier and a bit more in love than when they came."