World Ocean Day - Weekend Celebration
SAT JUNE 12 & SUN JUNE 13 | 8:00am - 9:00pm
The weekend long event begins on June 12 at 8 am at Faena Beach, on Collins between 35th and 36th Streets, and will continue on June 13 at 6:00 pm. Faena Art, has partnered with like-minded organizations Blue Scholars, and ARTSail, with the support of Tuuci and Boucher Brothers to create an exciting roster of programming.
Attendees can participate in a paddle-out with the Surfrider Foundation, an open-water swim with D&R or learn about water testing with EarthEcho International, while beach cleanups will comb the coast removing litter from the shoreline.
Families will enjoy artists collective AMLgMATD #SaveBiscayneBay flag installation, commissioned by ARTSail, as well as several opportunities to treat groups of children to fun ocean education with Waterproof Miami and Stream2Sea, and ocean-themed arts and crafts with Frost Science MUVE. All beach activities will end at 1PM.
On Sunday June 13, the weekend culminates with a closing celebration at the Faena Hotel's Mammoth Garden at 6 pm featuring  a talk with Elizabeth Wheaton, Director of the City of Miami Beach's Environment & Sustainability Department, and Dr. Nikki Traylor-Knowles, Assistant Professor of Marine Biology at the Rosenstiel School of Marine and Atmospheric Science at UM.
A screening of Ocean-themed films in the Faena Theater will conclude the celebration.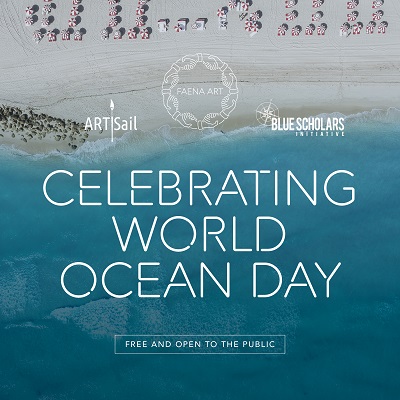 ---
Schedule
Saturday, June 12 - 8:00am - 1:00pm 
 FAENA BEACH
On The Water Recreation and Engagement 
Community Service and Impact 
Education, Art and Treats 
Sunday, June 13 - 5:00pm - 9:00pm
MAMMOTH GARDEN & FAENA THEATER 
Ocean talks, Cocktails and Films 
---
Reservations & More Information
Events are free and open to the public.
Click here to explore activity breakdown, times and registrations.