Hypnosis Healing Journey - Love & Abundance
JULY 20, 6:30 PM - 8:00 PM 
On July 20, join us at Tierra Santa Healing House for a Hypnosis Healing journey based on eliminating limited beliefs on our self-worth.  During this workshop, hypnosis will be used to see into obstacles we've placed in our path that restrict us from having healthy and meaningful relationships. By learning how to reduce self-sabotage tendencies and understand ourselves on a deeper level, we will gain a clarity of how we can feel safe, fulfilled, and authentic in our relationships. Guests will leave feeling worthy of love, affection, who we are and our desires.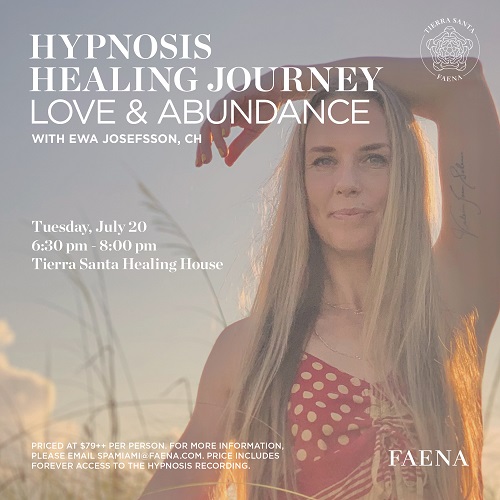 ---
Reservations & More Information
Priced at $79++ per person. Hypnosis Healing events will happen every Tuesday in July. For more information, please email [email protected]. Price includes forever access to the hypnosis recording.