Miami Art Week at Faena
NOVEMBER 29 – DECEMBER 4
FREE & OPEN TO THE PUBLIC 
Faena Art is celebrating 11 years of supporting the arts by continuing to create a platform for artists to push the boundaries of their artistic practice. Faena Art acts as a catalyst in the development of innovative ideas and reaches new audiences by promoting free and open-to-the public programming in connection with the work.
---
MIAMI ART WEEK 2022
TUESDAY, NOVEMBER 29TH - WEDNESDAY, DECEMBER 7 
? FAENA MIAMI BEACH
 
Featured Artists & Installations
MORNING GLORY
PAULA DE SOLMINIHAC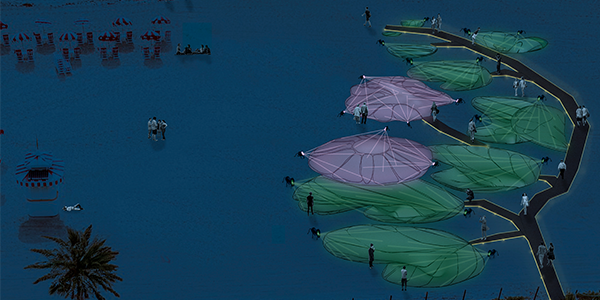 PRESENTED BY BOMBAY SAPPHIRE
? Faena Beach
Faena Prize for the Arts has been presented in Miami for the first time since it's inauguration! This year's winner Paula De Solminihac was awarded $100,000 to bring her creation to life right at Faena's Beach!
Morning Glory by Paula de Solminihac draws attention to the urgent matter of our plant ecosystem. Created in collaboration with architect Vicente Donoso, the installation takes the form of the Beach Morning Glory, a trailing evergreen vine omnipresent across the beaches of Florida and the world thanks to its floating seawater-resistant seeds. Composed of wooden decks resembling the flowers and leaves of the Beach Morning Glory, De Solminihac's site-responsive topographic installation invites endless interaction and play for everyone on the beach, with such diverse ability inclusive activities as playing, resting, watching, walking, and listening.
LEARN MORE 
 

LIVING ROOM
RANDOM INTERNATIONAL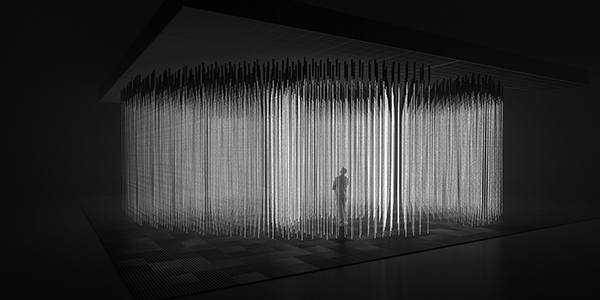 COMISSIONED BY AORIST
PRESENTED IN PARTNERSHIP WITH FAENA ART
? Faena Beach
Random international's never-before seen installation continues their exploration of the impact of technological development on the human condition, utilizing web3 to push the boundaries of immersive and experiential art.
LEARN MORE 
 

EFFETS DE SOIR
QUAYOLA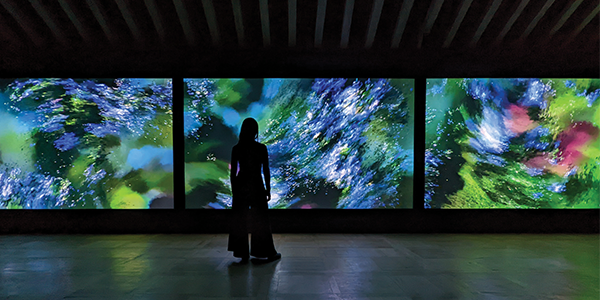 PRESENTED BY FAENA ART
IN PARTNERSHIP WITH AORIST
? Faena Art Project Room
Quayola employs technology as a lens to explore the tensions and equilibriums between seemingly opposing forces: the real and artificial, the figurative and the abstract, the old and the new. Constructing immersive installations, he engages with and re-imagines canonical imagery through contemporary technology.
LEARN MORE 
 

HEART OF OKEANOS
PETROC SESTI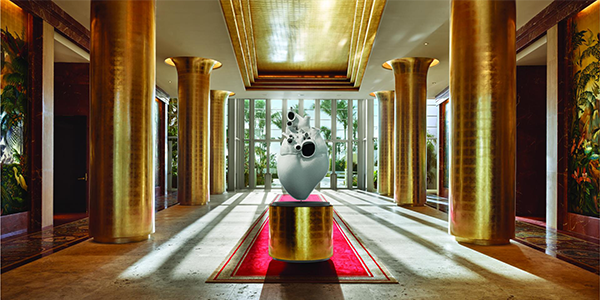 CO-COMMISSIONED BY THE REEFLINE, 
FAENA ART AND CARBON XINC
? Faena Hotel Cathedral
 Crafted in carbonxinc— an experimental material capable of sequestering significant quantities of greenhouse gasses—and seeded with living corals, Heart of Okeanos will become an idyllic haven for marine lifeforms.
LEARN MORE 
 

PATRIA Y VIDA
ANTONIA WRIGHT AND RUBÉN MILLARES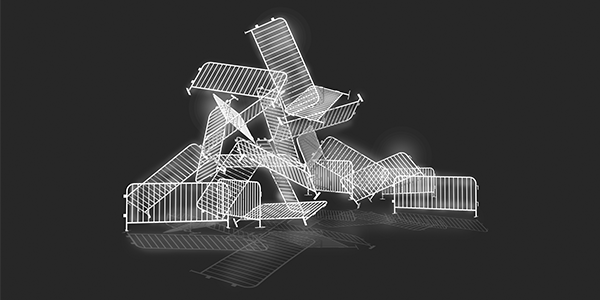 COMMISSIONED BY THE CITY OF MIAMI BEACH, IN COLLABORATION WITH THE MIAMI BEACH CONVENTION AND VISITORS AUTHORITY. PRESENTED BY NO VACANCY  IN PARTNERSHIP WITH FAENA ART
? Faena Beach
Patria y Vida is a largescale light sculpture that celebrates people's right to peacefully protest by using the barricade as a symbol of global resistance.
LEARN MORE 
PINK MEDITATION BUOYS
ANDRÉS REISINGER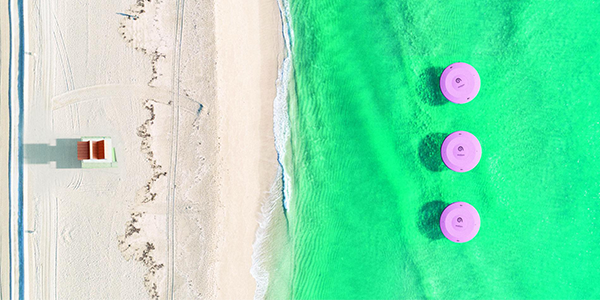 COMMISSIONED BY THE REEFLINE
PRESENTED IN PARTNERSHIP WITH FAENA ART
? Faena Beach
Bridging the boundaries of reality and fiction through utopian architectural renderings, interiors, and whimsical furniture, Reisinger's work creates scenes that are oftentimes impossible to exist.
LEARN MORE 
---
Programming & Agenda of Events: 
Tuesday, November 29
GRAND OPENING
6:00pm | Faena Miami Beach 
Join us for Faena Art's Grand Opening and unveiling of this year's Miami Art Week 2022 at Faena District! 
RSVP HERE
---
LEARN MORE:
FREE & OPEN TO THE PUBLIC
---
FAENA ART'S MISSION:
Faena Art commissions, produces, and houses cross-disciplinary artistic experiences. A catalyst for innovative, site-specific, and immersive practices, Faena Art bridges the popular and the experimental making art accessible to all. Faena Art fosters new models for social interaction transcending the traditional boundaries of art, science, philosophy, and social practice. Faena Art is a 501(c)3 nonprofit organization.
---
CATEGORY: faenna Art, Faena Art Art Week, Miami Art Week, Miami Art Basel 2022, Art Installations, Miami Beach, South Beach, Art Basel, Faena Art, Faena Miami Beach, Faena Hotel, Art Basel Miami, Art Basel Miami Beach, Art Basel 2022, Miami Art Week 2022