Red Room by Tony Kelly
FEBRUARY 5, 2022 - APRIL 2, 2022
A fine art exhibition of 15 new pieces by photographer Tony Kelly. Limited edition prints available for sale from The World of Faena series
---
RED ROOM BY TONY KELLY
It's a celebration of color, a brush of seduction, and a touch of paradise—dive into the world of Faena as seen through the looking glass behind Tony Kelly's masterfully irreverent lens.
RED ROOM, an immersive fine art exhibition showcasing photographs from Tony Kelly's latest project, The World of Faena.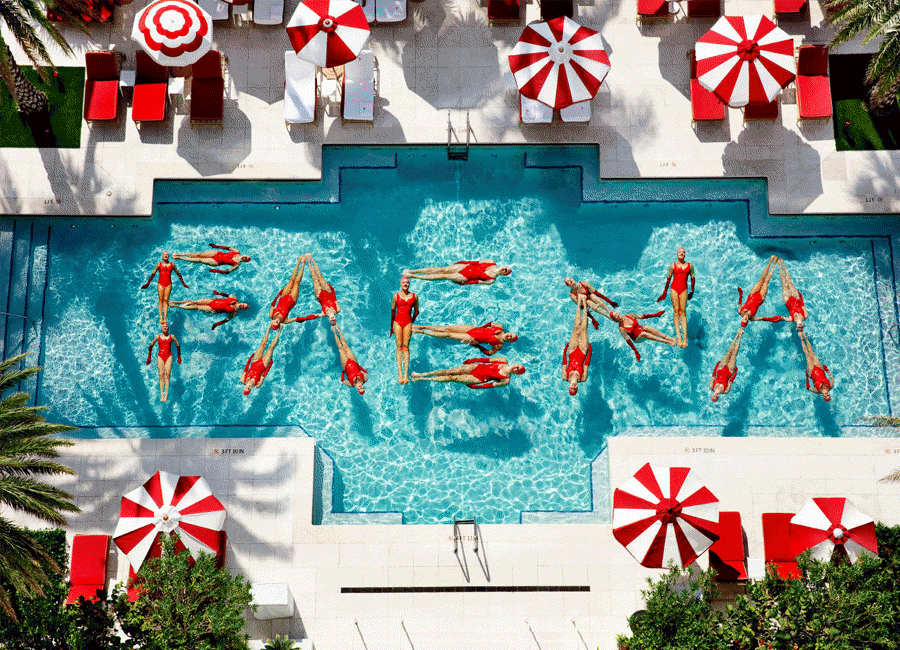 ? ABOUT THE PROJECT:
In 2021, Faena invited photographer Tony Kelly to create a new series of works based on the life and style of Faena Miami Beach. The result is a beautiful artistic journal featuring over 40 fine art works by Kelly.
For Red Room, an exhibition being hosted by Faena Art Project Room, Kelly has made a selection of the most vibrant photographs from this series, placing them within a completely red environment that highlights his iconic colors and completely envelops the viewer in the space.
"The Faena world is one that serenades you; a visceral and visual massage that seduces the soul," said Kelly.
Every step of the way feels like a journey unfolding, shares the Dublin-born, Los Angeles-based artist, and the journey is propelled by the winds of art and music and reverie. "This place is run by an artist and you can feel it."
With characteristic virtuosity, Kelly immortalized Faena's saturated palate of bold reds, whites and blues in a series of fine art photographs shot in locations throughout the hotel including the beach, penthouse and pool.
From bronze beauties bathing on the beach, to contortionists with cocktails, the splash of synchronized swimmers, and sensual stilettos aloft within a sea of sharks, Tony Kelly dazzles with the divinity of decadence.
---
? SHOP THE COLLECTION:
The exhibition is made up of 15 photographs, and limited edition prints available for sale.
* Limited Edition prints from the Faena by Tony Kelly fine art journal are available for purchase upon request.
______
As a collaboration with Faena Miami Beach and Faena Art Project Room, a portion of the proceeds from Red Room will benefit Faena Art, a 501c3 organization.
---
Reservations & More Information:
? EXHIBITION DATES
February 5th, 2022 - April 2nd, 2022
?LOCATION:
FAENA ART PROJECT ROOM
3420 Collins Avenue
Miami Beach, FL 33140
---
ABOUT TONY KELLY:
b. 1975, Dublin, Ireland
Photographic provocateur Tony Kelly's iconic images pose strikingly seductive plays on powerhouse politics and celebrity culture enrobed in a kitschy, hyper-realistic aesthetic. His lustrous, kaleidoscopic images weave a visual narrative filled with neon pop-surrealism that prominently populates his thought-provoking portfolio. As a cultural clairvoyant, Kelly's formidable strength as a satirical storyteller is singular and it's underscored by award-winning reams of rare and riotous releases. Fluent in the vitality of visual language, Kelly incorporates engaging artistic energy with a license to twist. Gravity-defying, glitter-flecked, and groundbreaking – welcome to the satirically, sunshine-drenched, palm tree-filled world of Tony Kelly.
---
ABOUT FAENA ART PROJECT ROOM: 
As Faena Art's first dedicated space in Miami, the Project Room serves as a platform for experimentation and development of innovative ideas. The Project Room encourages artists to explore new facets of their practice and hosts an artist residency, a series of artists talks, and fosters new models for social interaction that transcend the traditional boundaries of art, science, philosophy, and social practice.
Location:
Faena Art Project Room
3420 Collins Ave.
Miami Beach, FL 33140