Crochet Could Both Refute Euclid and Tackle Global Warming
Traditionally considered women's work, crochet explains complicated mathematical models with amazing simplicity.
The point of crochet is the production of artisanal fabrics, especially used by women through multiple looping techniques. It's an activity that's often disparaged as merely an ornamental ingredient in the lives of traditional women, that is, as a domestic pass-time. At times, artistic interventions put crochet into public spaces ("yarn bombing"), such as with the project La rebelión de los estambres (Rebellion of the String Yarn) in the Mexico City subway, or even with trees and street furniture as a way of providing a second skin to the aridity of an urban landscape.
Another project to demonstrate the vitality of handicrafts as an expression of collective consciousness was developed by Margaret Wertheim at The Institute for Figuring, an eclectic and eccentric center for the study of the relationships between mathematical models and global warming research, environmental activism and the art of crochet.
The project originated in 2005, and consisted of crocheting creatures inspired by coral reefs. After a first exhibition in a gallery, the work went viral and Wertheim has appeared in the media since then to talk about it.
For Wertheim, crocheting coral is a collective artistic response to global warming. Without neglecting the teaching and scientific dissemination sides to her work, Wertheimer's project took on a life of its own and proliferated into even more exhibits and crocheting sessions, 99% of participants having been other women.
But why make coral reefs with crochet and not in marble, wood or paper? The explanation lies in "hyperbolic geometry," developed in the late 19th century, and models of which were thought to be impossible to represent three-dimensionally. The basic paradigm of Euclidean geometry (a point and a line on a plane and parallel lines) and geodesic models (three-dimensional figures) can't adequately represent objects such as coral, or lettuce or other figures from nature. Wertheimer argued in her TED Talk that crochet is the perfect medium for showing three-dimensional Euclidean models.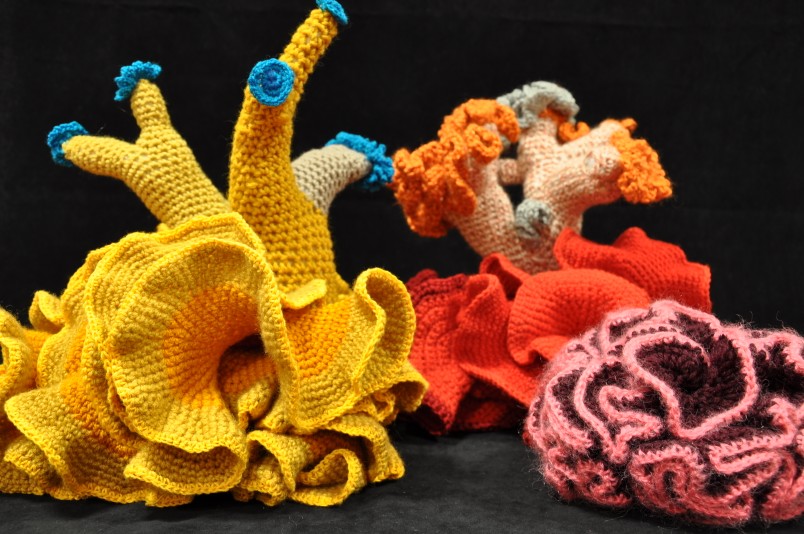 Designs for making a crochet of coral are based on equations of "code" that are plotted; but designers soon realize that small deviations from the code – variations that aren't due to any functional purpose, but which are simply expressive or artistic – produce surprising and unexpected results. A playful approach to the notion of the code allows for much more vivid crochet designs that seem less like geometric figures and more like undersea life.
The lineage of the Penelopes, the Arachnes and the Philomelas, weavers who spoke with their hands and who plotted time in shrouds and flowing colors, is an expression of but little use to the modern world, but one which turns the efficiency of machines to irrelevance at the first sight of the tapestries they conceive.
Related Articles