Is Walking a Cure for Chronic Fatigue? This Writer Walked 600 KM to Find Out
Sometimes the remedy for an upset is closer than we think.
Fatigue may be one of the great discomforts of our time. It's one result of the constant tension in which we live and of a way of life that obligates us to always pay more, give more, and go for more, without taking into account our own physical or psychological limitations. Imagining that we can all reach the same goals when none of us start from the same conditions is part of the problem.
Individually, we each live up to these impositions and we unceremoniously accept what we are and how far we can get, and our circumstances and our possibilities. We also feel compelled to "perform better" even while at the mercy of the system of production and consumption in which we live. How then are we not to feel tired, if we only follow our desires as outside obligations all the while knowing that, to some extent, they're unattainable?
In an exercise that's an admirable metaphor for the concept of what's really necessary, writer and multimedia artist, Nick Meador, undertook a feat with the main purpose of combatting the chronic fatigue that afflicted him. Meador made the decision to walk just over 600 kilometers (373 miles), following nothing less than the legendary Camino de Santiago, the famous pilgrimage route that culminates at the Cathedral of Santiago de Compostela, in Galicia, Spain and where the remains of the eponymous apostle are said to have been buried during the middle ages.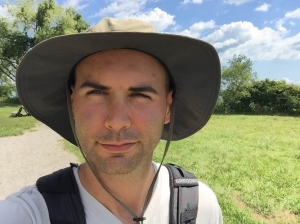 It's possible that Meador understood the usual medical explanation for chronic fatigue syndrome in that he sensed that his discomfort was not only physiological, but involved fuller parts of himself; his moods, emotions, expectations and other expressions of his psychic life. According to his account on the site, Elephant Journal, Meador was at the Mayo Clinic in Rochester, Minnesota, where he first heard of a "holistic" approach to the syndrome, i.e.; a treatment that wouldn't jeopardize his diet, sleeping habits, and emotions but that provided comprehensive approaches to nutrition, meditation, exercise and so on.
The Camino de Santiago project began in 2013, when a friend told Meador about the pilgrimage. Understanding the spiritual context of the path, Meador thought it would be a good idea, a possibility for wellbeing – to follow in the footsteps of the thousands of other pilgrims who came before him. And perhaps it would lead also to the origin of his fatigue.
After several months of physical and mental training, Meador finally got on his way. Among the many lessons learned, perhaps the most significant would be that along the way, he found a connection with himself that he'd never experienced.
I don't expect to be cured when I get back. I don't expect all of life's questions and confusions to magically become answered and clarified. Though I do expect to feel more genuinely me than I ever have before. And for that reason, this could turn out to be one of the best projects I have ever undertaken.
It's possible, in the end, that the cure for chronic fatigue syndrome is quite simple: just really want to regain enthusiasm for your life.
Related Articles