Libertatia, the Utopian Pirate Island
Under the common obligation to offer help in war and peacetime, freed slaves and pirates lived together under the rational rules of an ephemeral multicultural nation.
Among the legends among seafarers in the 17th century are that relating to a strange colony located on the coast of Madagascar: there, a brotherhood of pirates founded a community based on democratic values that lived in peace and harmony, at least for the 20 years that the adventure lasted.
And Libertatia (or Libertalia, as it has also been referred to as), from the very heroic sound of its name, reminds us of the rise and fall of Camelot, the mythical kingdom protected by Arthur and his knights. It was a politically and geographically autonomous zone founded by pirates that only sacked the slave ships leaving Africa to cross the Indian Ocean; the language they spoke was a pidgin of various languages, with which they all felt a little local and a little foreign among each other.
And if that sounds too fantastical in comparison with what we know about pirates, that is probably because the historical sources about Libertatia come from a book called A General History of the Robberies and Murders of the Most Notorious Pirates by captain Charles Johnson, published in 1726. But there is controversy surrounding the book, speculation that captain Johnson was the pen name of the famous writer Daniel Defoe, who recounted the misadventures of another sailor, Robinson Crusoe.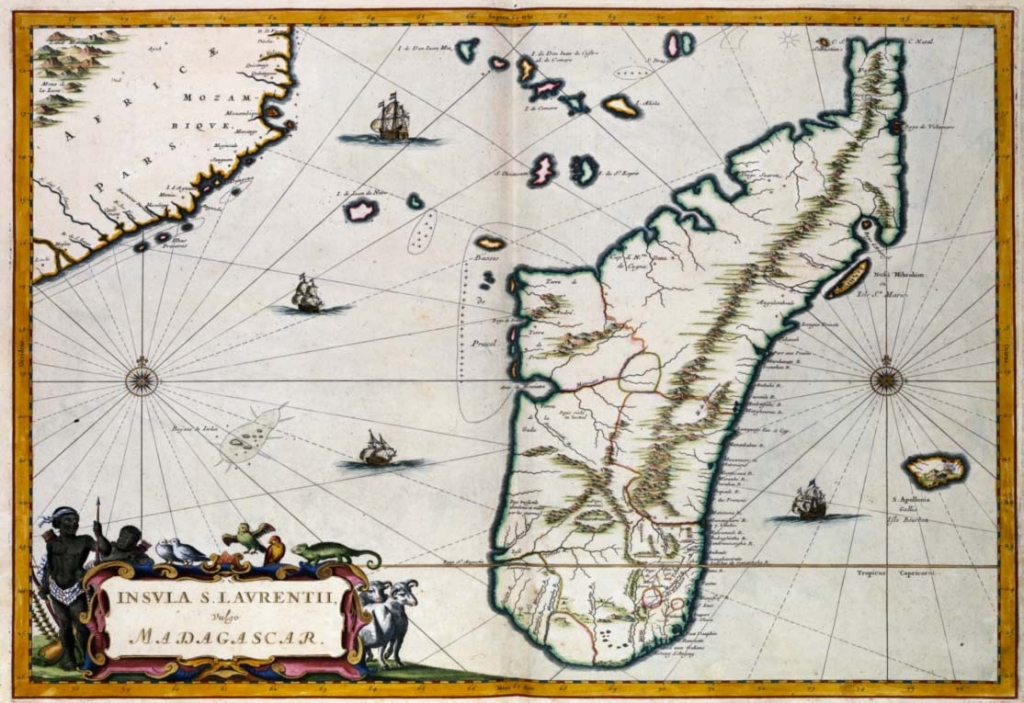 The Johnson/Defoe narrations main character is captain James Misson, of whom, curiously, Johnson has a manuscript, "in which he himself recounts his actions. He was born in Provence, to a long-standing family; his father, whose real name is not revealed, was the owner of a tremendous fortune, but with many children, our globetrotter had few chances for fortune that did not come from himself or by his sword."
We can be somewhat particular in the life of this gentleman Misson, because by a very great accident, we have got into our hands a French manuscript in which he himself gives a detail of his actions. He was born in Provence, of an ancient family; his father, whose true name he conceals, was master of a plentiful fortune, but having a great number of children, our rover had but little hopes of other fortune than what he could carve out for himself with his sword.
Misson thus embarks on a search for jobs on ships traveling from port to port. On one of his trips he meets a Dominican friar called Caraccioli, together with whom he organizes a mutiny to take control of the French ship Victoire that was carrying slaves from Africa. Legend has it that Caraccioli was inspired by Thomas More's Utopia to carry out his master plan to found Libertatia. Caraccioli's ideas were radical: he believed that organized religion was a weapon used to control the people and soon Misson and the rest of the crew adopted the same belief. The rights, obligations and responsibilities of the management of the ship and the island were democratically distributed among the more or less 200 mutinied sailors that followed Misson and Caraccioli in their project.
At a time when the world's naval powers controlled the slave trade, ideas of liberty and equality as expressed by Misson and Caraccioli were very progressive. For example, they agreed to abolish money and create a common fund to serve the needs of all. Despite the fact that Libertatia was located on the northern side of Madagascar, the pirates sailed the Indian Ocean freeing slaves from ships to join their crew.
The truth of captain Johnson's (or Defoe's) narration has been debated and placed in doubt: it is known that the stories of certain ships and pirate captains boast historical evidence in other sources, but the idea of a lost island governed by a single code of values reminds us of Utopia, and even of Never Never Land, and in general the places conquered by the imagination of travelers of ideas that abound in 17th century literature.
Related Articles