Mata Hari: Femme Fatale, Spy, and Victim
The archetypal "femme fatale" owes much to her, but is what we know really true?
Spy films produced in Hollywood often portray female characters whose appeal lies in ambiguity: on the one hand are those attractive to a protagonist (always male) such as James Bond. On the other hand, there are those who seem to have their own motives and hidden loyalties. These are almost always twisted or treacherous characters. Such ideas owe much to a political drama played out in the French press during World War I, and to a woman immersed in the military convulsions of her time. Margaretha Geertruida Zelle, sadly remembered in history by the famous nickname, "Mata Hari," paid for her involvement with her life.
Zelle was born in the Netherlands on August 7, 1876. She was married, very young, to a naval captain with whom she had two children who died in tragic circumstances. She finally separated from her husband in 1902 due to the violence she suffered at his hand. To support her remaining daughter, she moved to Paris and began a prolific career as an exotic dancer adapting the cabaret styles – so fashionable then in the "City of Light" – to traditional Indonesian dances, at which she soon became an expert. It was thus that her stage name, Mata Hari, meaning "eye of the day" or simply "The Sun," became widely known.
If the occurrence of World War I had developed differently, we might remember Mata Hari not as a spy but as a dancer. She toured Europe, developing extraordinary techniques which combined the exoticism of the East with the modern dance of the West and split with the rigidity of classical ballet through the theatricality of burlesque. An affair began with a Russian air pilot, Captain Vadim Maslov, who was wounded in a battle in 1915 far from Paris. His contacts with the European aristocracy who understood Mata Hari as a companion and courtesan of the upper classes soon attracted the interest of the French government.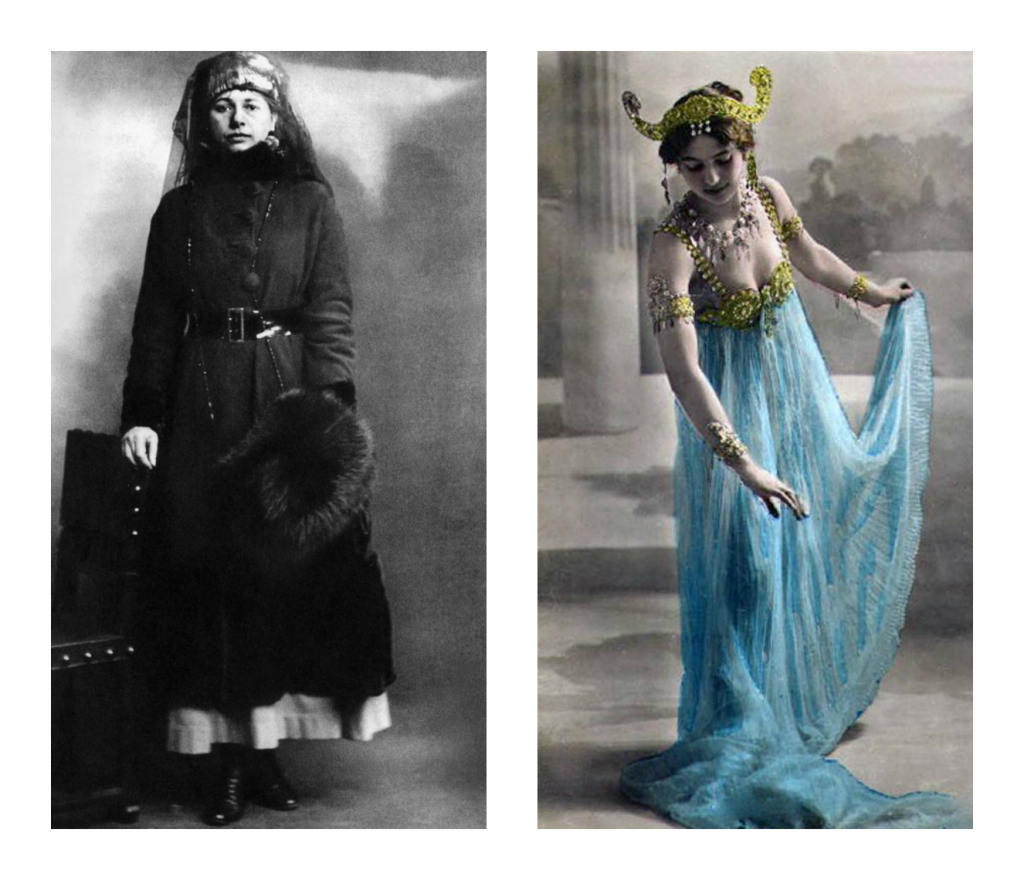 The French then blackmailed Zelle, inducing her to work as a spy on the condition of letting her leave the country to visit her beloved Captain Maslov, who'd lost his sight in a battle on the western front. The French intended Zelle to infiltrate the German aristocracy, namely Prince Wilhelm, and to learn their secrets. They also offered her money, but history would show this had been a raw deal. Georges Ladoux, a French officer who recruited Mata Hari as a spy, was actually a double agent for the Germans. Ladoux set her up and eventually brought a case against her, such that Zelle was sentenced to death by firing squad at the age of 41. Showing tremendous courage, she refused to be tied to a post and kept her eyes wide open during the execution. Eventually Ladoux, too, would be tried as a traitor, but he was exonerated for lack of evidence.
Mata Hari's story is often told as that of an ambitious woman, one who worked and profited from both sides of the first great war of the 20th century. Her story can also be read as that of but one more victim of the political intrigues of the time – one more pawn on a complicated military playing field. She was one who was taken advantage of and discarded when convenient, and one finally put to death for no other reason than to raise the flagging morale of the French soldiers.
The beauty and intelligence of Mata Hari have been a source of inspiration, albeit a tragic one, similar to the heroines of classical literature, like Briseis and Medea. To return these kinds of stories to their just standing not only honors those who've been deceived as the ruses of professional politicians of their times. It also allows us to understand a little better that the "femme fatale" is actually a construction of Hollywood that perpetuates female stereotypes, continuing to use them as is convenient, but at last to the detriment of women and their place in the world.
*Images: Public Domain
Related Articles