Pam Tanowitz, a world apart in contemporary dance
Contemporary Dance would not be as interesting in our current reality were it not for this brilliant choreographer.
During the 15 years that Pam Tanowitz has led a company, she has created dances that reveal a rare instinct on how the steps, structure and movement can have completely new effects even while based on a classical vocabulary. Her work often features eccentric or strange movements to which she lends formal beauty, furnishing them with legibility and elegance.
The New York-based choreographer has been creating dances since 1992. In 2000 she founded Pam Tanowitz Dance and has received commissions and residences from The Joyce Theater, New York Live Arts, The Kitchen, Danspace, Guggenheim and the Baryshnikov Arts Center.
With the help of her artistic award, presented to her in 2010 by the Foundation for Contemporary Arts, Tanowitz presented The Wanderer Fantasy at the Danspace Project and received a Bessie for her piece Be in the Gray With Me. Her subsequent works included The Spectators (2013) and Passagen (2014). In 2015 she presented Broken Story (wherein there is no ecstasy), which was a collaboration with David Lang commissioned by Works & Process at the Guggenheim.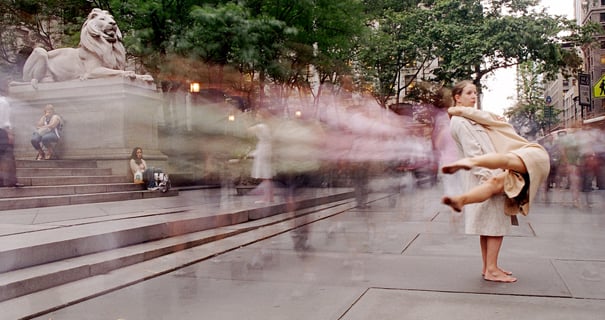 Her treatment of dance is like that of a time-honored object with the capacity to reflect current affairs; Pam "dusts them off" and reinvents them in the most astute way. In her words:
My dances are deeply personal explorations on movement, grounded in tradition, that comment on history—revering and revising its legacy. I play with classical vocabulary, not as parody, but out of respect for the dances from which I have learned so much. I take ballet steps and alter them into modern forms—traditional movement is twisted and thrown off-center, challenging the expectations of the viewer. I want the audience to observe the seams of my work, momentarily taking the "magic" out of theater and revealing the mechanical gears of performance. This is done without sacrificing elegance and is an attempt to reveal the fragility behind our basic human need to strive for purity.
The question that emerges from all of this is probably: Does the world need another modern dance? If it is a piece by Pam Tanowitz, then the answer is yes. The world is enriched by another modern dance.
Pam Tanowitz with Shohei Shigematsu, principal architect from OMA, and Dan Siegler, electronic musician, have been commissioned by Faena Art to create a site-specific performance entitled Cross-Disciplinary ChoreograhyNew Window for the interior of the Faena Forum.
Related Articles