Rolling Stones' Drummer Charlie Watts' Beautiful Children's Story
An ode to the legendary Charlie Parker and a cult object we recommend you leaf through.
Although the Rolling Stones have become dignified elderly gentlemen and that everything, or nearly everything, has been said about them, it is worth highlighting the beautiful project of one of their members, and a surprising one:
"Ode to a Highflying Bird" is an illustrated children's book on the story of the legendary saxophonist Charlie Parker, aka "The Yardbird". Watts, unlike Keith Richards and Mick Jagger, spent his youth listening to jazz and in the 1960s, when he worked as a graphic designer, he found a way to pay tribute to that jazzman with a children's story.
Written and drawn by hand, the story was originally just another piece among his portfolio as a designer, but when the Rolling Stones erupted into the world of glamor there was no shortage of people who offered to publish it. The work was soon forgotten, however, or perhaps buried under the group's overflowing fame.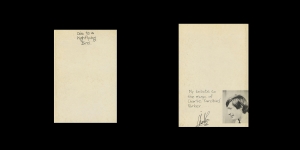 But rescuing it from oblivion has been a blessing, however, as, beyond who the author is and his musical history, it is one of those books that any reader, aesthete or music lover would love to read to their children. Ode to a Highflying Bird details the story of Parker: "Frustrated with what life had to offer him in his hometown, he packed his whistle, pecked his ma goodbye and flew from his nest in Kansas City bound for New York."
The book has not been republished and is therefore now a cult object (its price is as high as $2,000 on Amazon); but it could definitely be included in the list of books that all children, and appreciative adults, should read.
Related Articles