The Künstler-Necropole; A Cemetery That's Both a Museum and a Work of Art
In the necropolis of artists, every tomb is a masterpiece.
Some spaces function as doors between the physical and the metaphysical worlds, and cemeteries, perhaps, are the most symbolic of all. In a graveyard, the atmosphere oscillates between nostalgia, darkness, and, paradoxically, luminosity. Deeply spiritual places, tombs are erected as monuments to those who no longer exist, but the memory of whom wishes ever to be rescued from oblivion.
Around the world, there are many famous tombs, like that of the great Oscar Wilde, that has become a cultish point of obsession. Cemeteries are also sometimes considered obligatory destinations, such as the Highgate Cemetery in London, or the Cementerio de la Recoleta in Buenos Aires, to name but two examples. A lesser-known cemetery in Germany stands out for its rarity and for its exclusive list of interred. It's a necropolis for artists who must design their own tombs before finding rest within.
Künstler-Necropole (the Artists Necropolis), in the Habichtswald Nature Park, is just west of the German city of Kassel. The cemetery is an art project which has, for many years, hosted the tombs of artists invited to design their own tombs. When your time on this world comes to an end, your ashes may rest beneath your own work of art.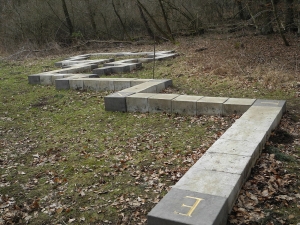 The strange cemetery was planned as a public art project by Harry Kramer, an artist, dancer, and art teacher, known for his kinetic sculptures of the early 1960s. Although Kramer died in 1997, his project is still alive and funded by a foundation created to manage his personal fortune. With space for some 40 tombs, the cemetery has today only slightly fewer than a dozen. Each is a striking work erected, already, over the remains of their creators, and complementing the area's natural environment.
A rather eccentric place, it resembles none other in its mix of fine art and death. Both a museum and a cemetery, the cemetery protects works of art which are simultaneously tangible epitaphs and works of art from those who've ventured in life to create. They're the monuments that survive, or which will survive their creators, finally, in a celebration of life.
Related Articles