These Two Women Who Travelled Around the World Inspired by Jules Verne
When New York-based journalists Nellie Bly and Elizabeth Bisland embarked on a circumnavigation competition, they changed the role women played in the world.
A well written book can do much more than inspire the reader's imagination. When Jules Verne wrote Around the World in Eighty Days he never imagined that his vision of circumnavigation would ever be materialized; or if he did, he hardly imagined it would be done by a woman. In 1889 the daring journalist Nellie Bly set out to surpass Verne's fictional itinerary and she embarked on a journey around the world that would last sixty-five days: the fastest global voyage ever. Her story however does not end there; her braveness inspired another woman to accept the challenge also: the refined journalist Elizabeth Bisland.
In Eighty Days: Nelly Bly and Elizabeth Bisland's History Making Race Around the World, Mathew Goodman records these women's historical adventure; he begins by describing the appearance and famous luggage Bly took with her on the journey —a description that has enriched the folklore of the world's travellers. The circumstances required Bly to use her boldness and intelligence to pack a single bag with all the essentials she would need to spend an entire year at sea.
Bly had decided that she would take but a single bag, a small leather gripsack into which she would pack everything, from clothing to writing implements to toilet articles, that she might require for her journey; being able to carry her own bag would help prevent any delays that might arise from the interference or incompetence of porters and customs officials. As her traveling dress she had selected a snugly fitted two-piece garment of dark blue broadcloth trimmed with camel's hair. For warmth she was taking a long black-and-white plaid Scotch ulster coat, with twin rows of buttons running down the front, that covered her from neck to ankles; and rather than the hat and veil worn by most of the fashionable oceangoing women of the time, she would wear a jaunty wool ghillie cap — the English-style "fore-and-aft" cap later worn by Sherlock Holmes in the movies — that for the past three years had accompanied her on many of her adventures. The blue dress, the plaid ulster, the ghillie cap: to outward appearances it was not an especially remarkable outfit, but before long it would become the most famous one in all the world.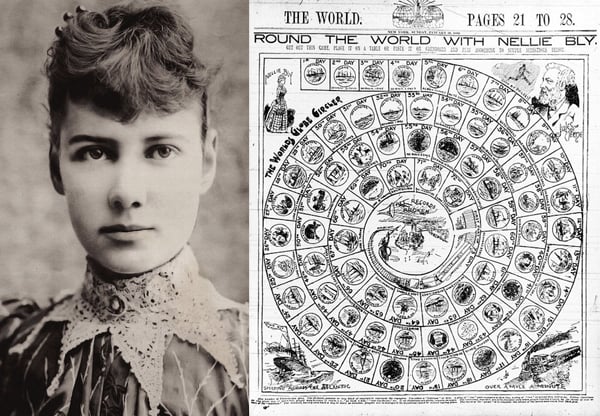 That November morning in 1889, while Bly was on her way to the Hoboken docks, a man called John Brisben Walker saw her while he was on a ferry going in the opposite direction. He was the editor of a high-end magazine: The Cosmopolitan, this would eventually become a low-level commercial magazine under a new director. When Walker saw Bly pass him by and found out about her adventure, he instantly came up with an idea that would be an incredible publicity stunt: The Cosmopolitan would send another adventurer to compete against Bly. To be fair, he thought, it would have to be another woman. To keep things interesting they would travel in the opposite direction. And so she did:
Elizabeth Bisland was twenty-eight years old, and after nearly a decade of freelance writing she had recently obtained a job as literary editor of The Cosmopolitan, for which she wrote a monthly review of recently published books entitled "In the Library." […] In New York she contributed to a variety of magazines and was regularly referred to as the most beautiful woman in metropolitan journalism. […] Bisland's particular combination of beauty, charm, and erudition seems to have been nothing short of bewitching.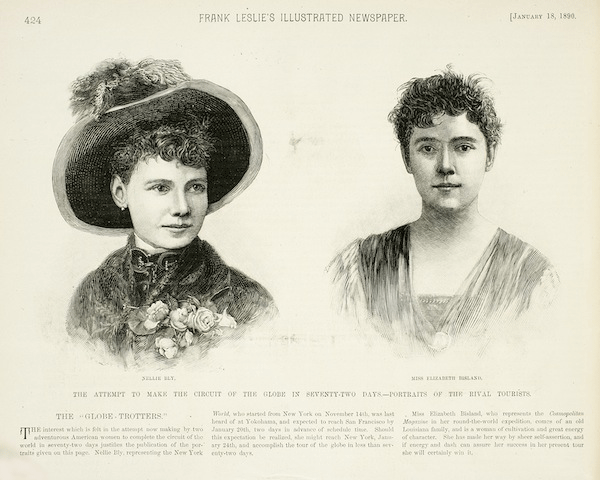 The two women who embarked on this unbelievable journey around the world were truly different characters; however, there was something that bound them together; a force that would define the most fortunate changes for women:
On the surface the two women … were about as different as could be: one woman a Northerner, the other from the South; one a scrappy, hard-driving crusader, the other priding herself on her gentility; one seeking out the most sensational of news stories, the other preferring novels and poetry and disdaining much newspaper writing as "a wild, crooked, shrieking hodge-podge," a "caricature of life." Elizabeth Bisland hosted tea parties; Nellie Bly was known to frequent O'Rourke's saloon on the Bowery. But each of them was acutely conscious of the unequal position of women in America. Each had grown up without much money and had come to New York to make a place for herself in big-city journalism, achieving a hard-won success in what was still, unquestionably, a man's world.
Goodman's book is a descriptive delight that describes the adventures of these two courageous women, while it also portrays, in great detail, Victorian customs and the emerging role of female journalists.
Related Articles